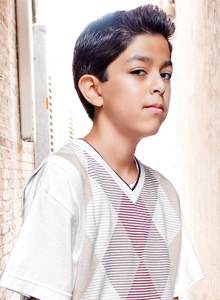 It's been a very busy time at ajsilmusic. AJ Silva is a 13-yr-old singer/musican/dancer living in Orlando, Florida.
After his first video, which he uploaded in September, 2010 and which featured a cover of That Should Be Me by Justin Bieber, AJ went on to cover several mainstream songs as well as some classics like the band Kansas's Dust In The Wind and James Taylor's Fire and Rain. Both songs were performed on acoustic guitar. His cover of Dust in The Wind caught the eye of Chip Ruggieri who handles PR and Consulting for Kansas.
Once the band saw AJ's cover, they instantly requested he visit them at their show in Clearwater, Florida in May of 2011. It was amazing enough to meet Kansas, but the visit ramped up AJ's desire to someday be on stage and perform for fans just like Kansas has been doing for over three decades.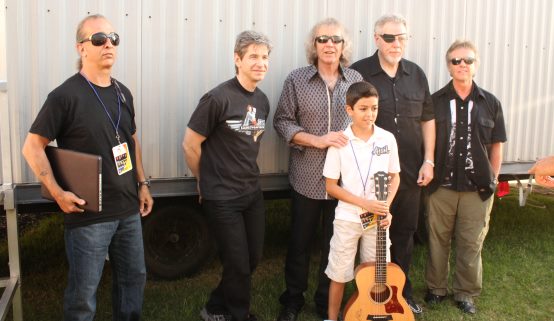 AJ Silva with the American rock band  Kansas
AJ persuaded his dad to increase his guitar lessons.  As AJ put it, "I want to be the best someday". So he began taking lessons with a local guitarist named Michael, who took AJ under his wing. Before long, he was mastering some very difficult songs for his age.  As time went on, AJ put up several new covers like Rocketeer and Michael Jackson's I'll Be There.
AJ had been playing on a guitar his dad gave him to learn on, but his playing became so good that the time had come for a new guitar. As an early Christmas gift, AJ received the guitar he'd always wanted: a 814 Taylor.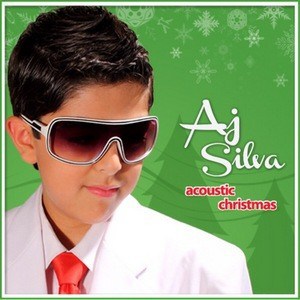 At Christmas of 2011, AJ started recording what would be his first songs for the holidays, produced by his dad Luis Silva. The song selections included: Rocking Around The Christmas Tree and The Christmas Song, two very well known songs for the holiday season. The next two songs chosen were covers from young singer Billy Gilman. From Gilman's album Dare To Dream: God's Alive and Well and from his album Classic Christmas: the song Warm And Fuzzy.  AJ just has a sweet sound to his vocals that is very similar to Billy's at that age.
With the start of 2012, AJ began to learn dance, being choreographed in R&B and Pop style dance. He rehearsed at KDS Studios in Orlando and the Dance Factory, working three times a week with his choreographer Jonathan.  AJ found he was a natural at dance.
With new covers on the way like Adele's Someone Like You, AJ's YouTube channel started to grow – reaching over 500,000 views. At last his videos were being watched and his subs were going up at a steady pace.
Along about that time, the world received the news that the beloved Whitney Houston had passed away. AJ watched all the news reports about Whitney and decided he wanted to cover her most loved song I Will Always Love You as a tribute to her.  He started out with the lyrics and, once he knew them, at first he wanted to record it at the piano for his video.  But ultimately he ended up doing it standing. His fans loved it and those who saw it who had never heard of AJ could not believe such a powerful voice was coming from such a small boy.
AJ's Tribute to Whitney Houston
In April of 2012, AJ's dad recieved an email from David Malloy.  Mr. Malloy is a very respected Grammy nominated song writer who has 41 Number One Billboard hits.  He has written for several major labels based out of Nashville, TN. He is also the founder of Teenhoot.  Teenhoot selects young talent from around the world and gives the kids a chance to showcase their stuff in front of thousands of Teenhoot fans and music industry elites. The latest Teenhoot show was to be a live concert at which young performers would be featured.  Called Hoot Fest, it would be held in Nashville, Tennessee on July 6 & 7, 2012 and AJ was invited to be one of the performers!  He'd be performing with the likes of other young artists popular on YouTube such as Jimmy James Hunter and Grant Austin Taylor. So with his invitation to Hoot Fest in hand, AJ started rehearsing the songs he'd selected to perform.
In the meantime, in June of 2012, AJ published his latest music video, which was a cover of Tom Petty and The Heartbreakers's Running Down A Dream. Tom Petty's original version of the song was a favorite of AJ's dad. And with AJ's increasing guitar skills, this song was the perfect one to showcase his skills to his fans. AJ liked the challenge of doing a rock song because it was something his fans had never seen him do and AJ also played a big part in how the video ended by coming up with the idea that it was all a dream!  After all, what kid doesn't dream of  owning a SRT8 Challenger and driving fast while listening to a good rock song.  With the concept in place the video went into production, filming in locations around Orlando.  Luis Silva was behind the camera and good friend Greg Smith, aka "G", was behind the wheel doing the driving.  AJ and his dad are very proud of how the video turned out.  Here's the finished product:
http://youtu.be/75GWdHtlprw
At last the day came in early July to pack up the car and head to Nashville for Hoot Fest.  "The excitement was incredible", said AJ, "Just throwing my bags in the car knowing in just few hours I'd be in Nashville."
On the 5th of July, 2012 all the Hoot Fest performers attended a party given by David Malloy at his Westwood Studios in Nashville.  This was a chance for the performers to meet and talk about the show coming up the next day. Oliver Garland from the UK asked if the others would like to help him out by singing the chorus of a song he's recording for a charity in the UK. All the Teenhoot performers pitched in to help.  They recorded it that night at the party.  It was an amazing sight to see so much talent in one studio.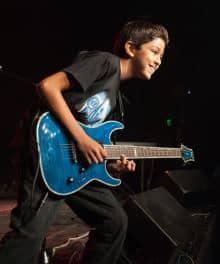 The next day, July 6th, AJ arrived at Rocketown Center where Hoot Fest had setup a venue.  After some quick sound checks, he was just a few hours away from walking onto the Hoot Fest stage where other popular YouTubers such as Austin Mahone had been. AJ was very relaxed and ready to perform for the fans. His first song was Chris Brown's With You and it caused girls to scream.  Then he did Bryan Adams's (Everything I Do) I Do It For You.  The last song was from his newest video, the cover of Tom Petty and The Heartbreakers's Running Down A Dream. 
Once AJ returned to Orlando after Hoot Fest,  he wanted to start a new video and make it for all the fans at Hoot Fest he had met.  He already knew what song he'd do, Bryan Adams's (Everything I Do) I Do It For You.  Via Twitter,  he asked his followers to send him pictures of fans he had met at Hootfest to use on the video.
AJ Silva covers Bryan Adams's (Everything I Do) I Do It For You
http://youtu.be/U7M6rr-SMMY
So the summer is off to a great start, with more opportunites in the wings.  This could be the year AJ realizes his dream of sharing his talent and love of music with his fans around the world in an even bigger way.  It's all pretty amazing for a 13-year-old boy from Orlando, Florida.
_________________________________________________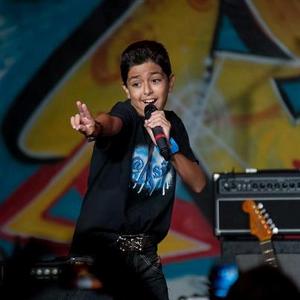 You can follow AJ on Twitter:  https://twitter.com/ajsil
On Facebook:  http://www.facebook.com/ajsilofficial?ref=ts
On YouTube:  http://www.youtube.com/ajsilmusic