I met Rod from Rivenmaster.com several months ago, after he contacted me with a comment on a young singer featured at theskykid.com (Brendan MacFarlane).  Then I found out that he maintains a blog about young musicians and I was able to recognize several of the performers featured on it.  We exchanged a few emails and Twitter messages and it was not long before we held a long conversation on Skype.  At that time, I was sharing some tips with him on blogging and search engine optimization. We became good friends as we shared the same passion towards treble music.  I asked him to help around the newly launched site radio and, if you ever listened to it, you would probably be familiar with his audio recordings and live interviews. Then I had an idea – inviting him for an interview with theskykid.com, thus giving the readers of the site a better idea of who he is and why he got involved in blogging in the first place.
Skykid:  Hello Rod and thank you for agreeing to this interview for TheSkyKid.com. Usually you are the one who asks the questions, but today the "hot seat" is reserved for you.  Are you ready to shine under the spotlight?
Rivenmaster: Yeah, if this is the spotlight I'm ready.

Skykid: Your nickname is Rivenmaster. How did you choose that and what does it mean?
Rivenmaster: That is kind of unique. I guess I would have to say it's a hangover from a past presence on the web. Years ago I was really into a game called Riven, which is a sequel to the first game that came out called MYST. I was heavily into IBM and computer gaming back then. I got rather proficient with that series of games and as I would go out to different message boards looking for ideas and answers for some of the questions that I had, I would end up running into some young people who had more questions than answers.   Then I met this young man who was from Australia and he gave me the nick name Rivenmaster, because I knew more than anybody else on the boards.  He told me that I should start a website surrounding the game — Riven — which I did, and that gave birth to Rivenmaster.com. I did that for probably about six years until the game kind of lost popularity and EXILE came out and all the sequels to it. Eventually it went away and I dropped the website for awhile. When I started the new website, I just kind of hung on to this old domain.  So it's a little bit confusing for some people and maybe someday I should change it. But because I was so well known in the web community as Rivenmaster, I just retained that.

Skykid: You are the chief editor of http://rivenmaster.com . Tell us a little about your present blog and why you started it.
Rivenmaster: Rivenmaster.com, as it is known today, was birthed only a little over a year ago. I desired to do a little more of what I was already doing currently to help promote young singers. I created my YouTube account probably six years prior, but never really did a whole lot of friending or subscribing. It was more for a collection of all of the unique young singers that I had on my site. I am really fond of treble music and the young male voice as opposed to a lot of other music. I like a variety of genres, there isn't much that I don't enjoy as far as music is concerned, but I really like the young treble voice. I saw many of these kids struggling, trying to get their name out there, and trying to get known by competing in various contests like SoundCheck etc. I just got the idea that maybe there would be something more that I could do in regards to having a web presence and helping them out at the same time. It was through that desire that Rivenmaster.com was born.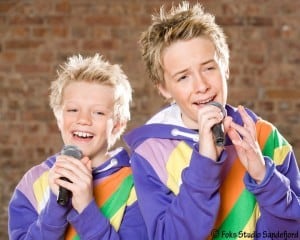 Skykid: I'm sure that you will have a hard time picking a single article from your blog, but statistically what is the most popular article on your rivenmaster.com site right now?
Rivenmaster: I would have to say 2Boys from Norway has become the most popular of all the articles presently.
Skykid: What makes your blog unique from others?
Rivenmaster: Probably the fact that right now I am still featuring only young male artists. Young male artists are a lot more difficult to find than female artists, especially the ones that are just starting out. There is probably about ten female to every male singing performer or artist. Finding a good, ample supply of young talented male singers, and featuring them all on one site and in one place, is quite unique in itself.
The second thing that I think makes the site rather unique is the fact that I am in direct contact with the parents  of every single young artist for whom I do a feature article.  I am not writing anything that someone has already written. There is no hear-say involved; it's directly coming from the parents.  In addition, we have opportunities every now and then to actually conduct a live interview with that young star. It's very unique, in retrospect, that everything is coming personally from the parent or young artist.

Skykid: Your blog is music oriented, so we are bound to ask: What music plays most frequently on your stereo, computer or mp3 player?
Rivenmaster: Well, I imagine you will find the same type of music on my mp3 player, computer…etc as you will find on my blog. It's going to be 95% young artists.  Billy Gilman, for example – I have every one of his CDs.  I also have a lot of the recordings that are recorded by the youngsters on the site. Some of them are professionally recorded, some that they have just captured at home with their own equipment. I love Libera –as a singing group. As far as a choir – I have the albums of the Vienna Boys Choir. I love treble music, so that would naturally be on my mp3 player. I like Country and Pop. Up until meeting MattyB, I didn't care for rap music much, but that kid has made a believer out of me –  so I even probably have a little rap if you want to include Matty, Matty's style of rap that is!
Skykid:  Do you find being a parent and a husband makes you more disciplined as a blogger/writer, because your free time is more precious?
Rivenmaster: That is true. We do have a lot of things going on. I have five sons of my own and there is another young man that has come into my life that I am mentoring – he is kind of like a son to me. So I guess I could say I have six. I also have four grandchildren currently, and one on the way. Two of my grandchildren are handicapped, one severely handicapped, born with multiple birth defects, who I spend a lot of time with in and out of the hospital. So, yes, my life is full in a variety of different ways. Aside from being active civically as a CASA (Court Appointed Special Advocate), a volunteer for children that end up in abuse cases and things of that nature, I'm also active in church work and similar organizations. But yes, my life is very active and that is why I haven't thought seriously of making a career out of blogging. It has been a rather fantastic hobby that has become a passion.

Skykid:  Aside from personal satisfaction, are you also receiving a monetary income as a result of your blogging efforts?
Rivenmaster: My reward is just the joy of seeing someone actually be discovered and recognized, while helping them get a leg up in an industry that is really hard to crack into. I don't charge anything!  My site is strictly on a donation basis – I have had a donation tab on it for some time. We do not request any of the young artists to contribute in anyway. What I do, I do exclusively as a help. I never set the blog up, or even started it with the thought of making a living with it. It really is more of a hobby than anything.  Of course, now that we have been doing it for a year, it would be a dream to actually turn it into a full time profession. Because I have been unemployed this past year, I have had a lot of time to dedicate to the blog. However, I am still not seeking, necessarily, to turn it into a full-time business. One needs to understand that it takes an awful lot of time to actually produce one of these web sites and keep it current.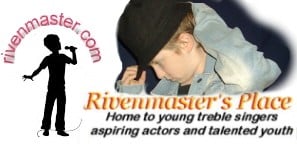 Skykid:  What kind of audience would you most like to reach with your blog?
Rivenmaster: The main objective to the blog is to give these young talented musicians a real extra media push towards producers (record producers, movie producers, anybody in actor guilds —  just anyone of influence who is looking for a talented young person).  It's not always that I discover them. They are quite easily found on YouTube and MySpace and sites of that nature. But many of the ones I have on the site are just starting out. Some are now past that or long past that or even very closely approaching being signed or have just been signed.  We see them at all points in their career at the blog.  So I would say that the audience I am really pursuing are talent scouts and producers, in an attempt to help these kids really get a leg up into the industry.
Skykid: I am sure that many people like your blog and want to contribute to its success. How can one support http://rivenmaster.com ?
Rivenmaster:  I appreciate you asking that question. Again I don't really solicit donations, but I do have donation tab that is on the site and if anyone enjoys what I'm doing and appreciates the site's efforts in trying to help the kids, I can guarantee that anything they donate will be appreciated and will be used for the continuation of the blog.
Skykid:  And last, but not least, if I was a young performer, musician or singer (or a parent of one), how can I contact you? What kind of information do you usually request in order for you to begin work on an article?
Rivenmaster: The approach that I usually take starts when someone contacts me via the contact form on my site or writes me direct at writemeone@hotmail.com.  Once the parents contact me and let me know that they would be eager to have their son appear on the site, all I ask is for a few pictures and maybe a biography written by the parents, a producer, a manager or someone who might be working with them. This gives me a little insight about that particular young artist. I usually ask them to start when they first noticed the unique talent of their child, whatever it might be, and progress through their early childhood development through school and bringing us up to date to what they are actually doing now. They should also include any notable performances, radio interviews or television appearances. Some of the kids are quite advanced in their careers already and have had television appearances and radio appearances; others are still making video clips in their basement or bedrooms with their own recording equipment and are quite rough and unpolished. Again, it's all about helping them advance their careers.

Skykid:  Is there is something that you would like to add?
Rivenmaster:  A way that you can support the site, if you can't do it financially, is by leaving comments on the articles.  Every comment that is left on the article helps propagate that article throughout the web. Google also picks it up and consequently the kids get more attention. It's not necessarily for the blog to gain the notoriety, the articles are written for the young artist and every comment helps to carry them one step closer to being discovered by a professional producer.
Skykid:  And where can people find you other than Rivenmaster.com?  Twitter, Myspace, Facebook maybe?
Rivenmaster:  Oh yeah I am everywhere. If you just take a look at the bottom of my site you will find links to about ten different websites where you can find me.
Skykid: Thank you very much for joining us today and we will be looking forward for more interesting and exciting articles at rivenmaster.com
Rivenmaster:  Thanks for the opportunity Skykid! I really enjoyed being on the other side of the interview table for a change.