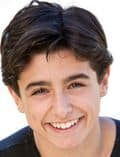 Hi Giuseppe and thank you for agreeing to this interview with theskykid.com.
You've had a pretty exciting last couple of years starring in Billy Elliot the Musical (BETM), which has included moving to the US from your native Switzerland and then playing the title role with three different casts of the show: in Chicago, all over the USA with the National Tour and then on Broadway. That had to have been a very hectic time during which you were "in the spotlight", both literally and figuratively.
We thought we'd visit with you, now that the Billy spotlight has been turned off, to update your many fans as to what life is like for you after Billy.  It's been three months since your last show on Broadway and a month after the show closed there, which included the big finale that you participated in.
Note: For this interview, the questions posed by theskykid.com will be represented by an "SK" and "GB" will indicate Giuseppe's answers. To view captions on any of the pictures in this article, just run your cursor over the picture.

The Interview
SK: For those readers of theskykid.com who may not have followed your career as Billy Elliot, what was your pre-Billy training like?  You started out as a dancer, correct?
GB: Yes, I did start out as a dancer. And that was really all I knew. Up until I was discovered by Nora Brennan (Kids Casting Director for Billy Elliot The Musical) at the World Dance Competition "Youth America Grand Prix" where I was 3rd in the World. I was very excited. And then, because of Billy, I started doing Tap, Acrobatics, Singing, and the Acting just came along.
Giuseppe as Billy Elliot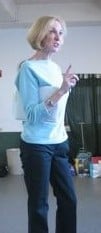 SK:  Could you just briefly recap what the process was like being "discovered" for BETM and then the training/rehearsal process leading up to your debut?
GB:  It was hard, intense but FUN work. After I was discovered by Nora Brennan, I was training every day (as I had before), but this time I had to also fit Tap and Acrobatics into my schedule. It wasn't too different. At the callback, I was at the same level of Tap as all the others.  I had improved a lot in Acrobatics.  And I really liked it.
SK: What were some of the highlights of your time as Billy – things that you'll always remember about that experience?
GB:  The thing that most impressed me was the fans traveling all over the US to support the show.  Some of them became really good friends and I started to find out that they had the same passion as the actors and re-lived it through the actors on stage.  I really miss the fans I don't get to see a lot. They gave us a lot of power and energy on stage. I will also remember all the good times I had in and outside the theater. Of course, there were also the awesome press events, which I loved doing.
SK:  So now the glare of that bright Billy spotlight is off. Those hectic days of rehearsal and training and performing in the show have ended.  In these post Billy days, what is a typical day like for Giuseppe Bausilio?
GB:  I usually take two ballet classes a day with my mother.  And then I have rehearsal for competitions. Then I have some Acting, Singing, Acrobatic and Tap lessons. Or Guitar. I do school work.  Sometimes I go home to Switzerland.
SK:  Doesn't sound all that different from your days as a Billy.  Speaking of schooling, how are you continuing your academic schooling now that you don't have the tutoring at BETM?
GB:  I do Virtual Schooling, which is online, with online teachers and everything you would have in a regular school program. It definitely also teaches me discipline.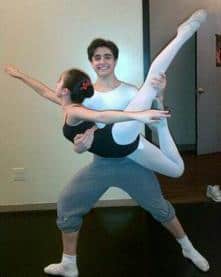 SK:  Is dance still your primary focus?  Are you doing any formal dance training?
GB:  Yes, I dance every day about 4 to 5 hours. I also sing and act. I like to keep my options open.  And I wouldn't dare lose all the things I learned in Billy Elliot the Musical.
SK:   So you're taking most of your dance training from your mother now.  What about the singing, acting and acrobatics?  From whom do you take that training?
I still do formal singing/acting/acrobatics training. I sing with Amelia DeMayo, take acting lessons with Susan Batson Studios/Jagger Kaye's "Castings n' Classes"/TVI… and also a couple of others. I take acrobatics at Chelsea Piers.
SK:  We hear through the grapevine that you have a couple of very exciting projects coming up in the near term:  The Gala in Paris and the Youth America Grand Prix (YAGP) competition in New York City.  Could you tell us when they will happen, what each of those involves and how you're preparing for them?
GB:  The Youth America Grand Prix starts on April 22, 2012 and finishes on April 26, 2012. Then comes the Gala in Annecy, in France, where I will dance with my brother (Editor's Note: Giuseppe's brother, Yannick Bittencourt, is a soloist with The Paris Opera Ballet). And then I have another competition in Paris.  YAGP is a competition, for which I train 1-11/2 hours a day with my mother.  Chausson D'or is an International competition, and I also train 1-11/2 hours a day with my Mother for that.  For both of those,  sometimes my father and brother also see me through Skype. Annecy is a competition, but this year they have asked me to dance at the Gala there. I'm very excited for all of them.
Giuseppe Dancing in the 2011 YAGP
SK:  We know from several articles published about you over the past couple of years that, aside from performing, you have a variety of other interests ranging from blacksmithing to cooking.  Please talk about your hobbies and if you've found time to participate in any of them recently.
GB:  I love cooking and baking, and I always do it at home where I sometimes cook for my family.  I make really good cookies too. I also love Blacksmithing. It has always felt really natural working with iron and metals. I do a lot of sports.  For example: Boxing, Soccer, Football, Ice Hockey, Fencing, Swimming… and there are many others. I'm also very handy, which I learned from my father. I help my mother with her new ballet school "AS Ballet NY", where I both study and train dancers.
SK:  How's your dog?  Is he in America with you now?
GB:  I actually have 2 dogs —  Billy and Fina.  Billy is with my mom and me in the USA.  He comes back with us to Switzerland when we go. Fina, who is in Switzerland right now, comes with my dad to the USA.  I love both of them.
Giuseppe playing with his dog "Billy" while in Durham, NC at the start of the BETM US Tour 
SK:  Besides the performance projects we've already mentioned, do you have any others on the horizon for 2012 or beyond?
GB:  I am going to record some songs Thommie Retter wrote, take some Master Classes at colleges,  and act in some large/lower budget movies. And, of course, there are the ongoing auditions for various other projects.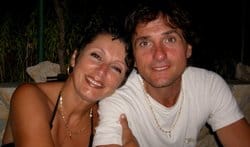 SK:  Is there anything else about Giuseppe Bausilio that you'd like to share with our readers that we haven't specifically asked about?
GB:  I really thank my parents for giving me such a big opportunity.
SK:  Is there anything you'd like to say to your many fans?
GB:  Thank you so much for all the support all of you have given me. And I really want you all to know that I appreciate every second of that support.

We'd like to thank Giuseppe for taking time for this interview so as to update his many fans on how his "Life After Billy" is going.  There is no doubt this talented and personable young man will go far in the entertainment world, if that's where his desires take him.  We wish him all the best on that journey.
For more information about Giuseppe: visit his website, read his Billy Elliot profile or visit his thread at Billy Elliot the Forum