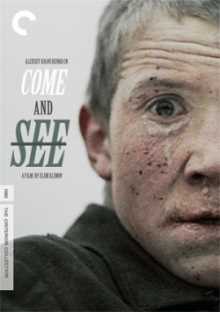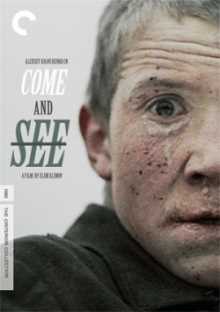 Come and See (Idi i smotri) features one of the most disturbing portrayals of a Coming-of-Age experience I have ever seen on screen.
Its protagonist is a twelve-year-old  boy and the action in the film takes place in Belarus during the World War II. The Nazi forces are advancing and for the young Florya, who manages to find an old rifle,  joining the partisans and fighting for his country seems to be almost like an invitation to an adventure – an opportunity to become a hero. And who can blame him? At twelve, he is just an innocent lad living in a remote Belorussian village with his mother and two little sisters.
At first, the partisans accept him.  He joins them and is given a task typical for new recruits – cleaning and training by observing what the most experienced among them do. Yet, in the end, he is left behind because of his age and inexperience.  He  is confused and angry, " I came to fight …and they treat me like I am not worth it".   That's what he shares with a teenaged girl who is also left behind. The Nazis are nowhere to be seen, an image of a hatred enemy… until the bombs start falling.  From that moment on, viewers experience the war through Florya's eyes – and it's a shocking and terrifying experience.
The Coming-of-Age element of the story is closely related to the loss of innocence of the young boy.  He goes through a  transformation that hardens not only his face, but also his heart and soul.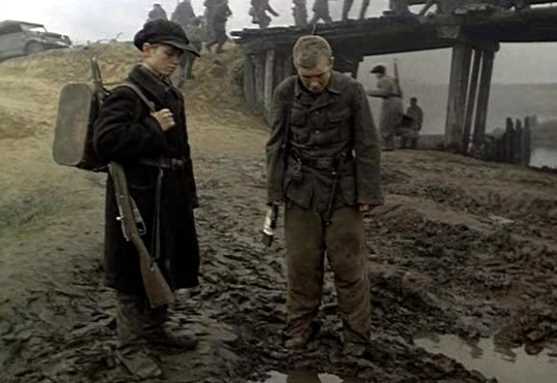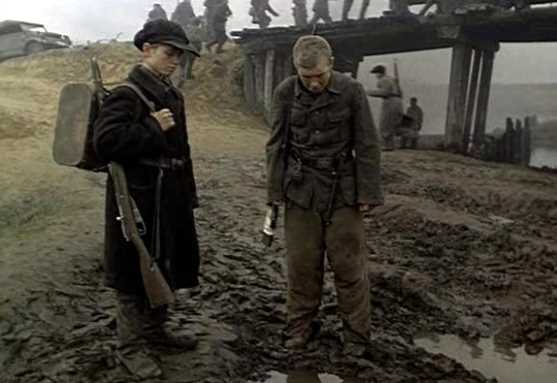 The cinematography of the film is stunning.  Some scenes are filled with a feeling of surreality, filmed in a way that boosts the haunting effect they have on the viewers while preserving the accurate and believable atmosphere of the movie.  Everything on screen seems to be involved in the story, not just the people, but even the animals (I am not likely to ever think of a stork the same way after seeing one appear for a minute or two in a very tenacious scene in the movie).  The camera spares us nothing, alternating between the  grotesque inhumanity of war and the close ups on the face of the young protagonist of the film witnessing the horrors of war.  He realizes that it's not the "glorious war" that makes people heroes, but sees it for what it truly is  – suffering in which there are no winners.
Noone makes war movies better than the Russians. In Come and See, Director Elem Klimov has created a masterpiece comparable to the 1962 acclaimed film by Andrey Tarkovskiy, Ivan's Childhood. The excessive violence in the film makes it unsuitable for young viewers, but it is by far one of the most powerful Coming-of-Age dramas I have ever seen.
Film title: Idi i smotri
Also known as: Come and See
Release year: 1985
Director: Elem Klimov
Cast: Alexei Kravchenko, Olga Mironova, Lyubomira Lautsyavichyus, Vladas Bagdonas, Yurs Lumiste, Kazimir Rabetsky and others