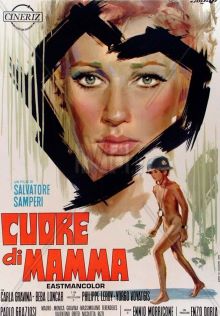 Cuore di mamma (Mother's Heart) is one of those classic Italian films attempting to exemplify what life was like (in the late 1960s). Yet, unlike the best of those Italian classics,  in this case, the attempt has resulted in confusion, boredom or distress. My interest in the 1969 Salvatore Samperi film initiated from the cover artwork, which led me to believe that the film could end up being a challenging and even controversial narrative. Instead, I counted the minutes – as nothing in the story gripped my attention.
An apathetic mother has lost control over her children – a boy and girl (roughly ten-years-old) and their three-year-old brother. The children raise havoc – playing pranks on adults, reading (and reciting out loud) propaganda pamphlets and building dangerous space rockets, which explode and kill the space explorer (the family's cat). Frequently, it feels that it is the children who are in charge, controlling their mother's life and even the people who dare to come close to the family.
Most of the social issues addressed in the film will mean little to today's viewer of the film, which makes Cuore di mamma a period film. The violent and surprising ending of the movie compensates for the dragging pace of the action, yet somehow I feel that if the film's story was told in a short film format (under 15 minutes),  its effectiveness could have been much greater.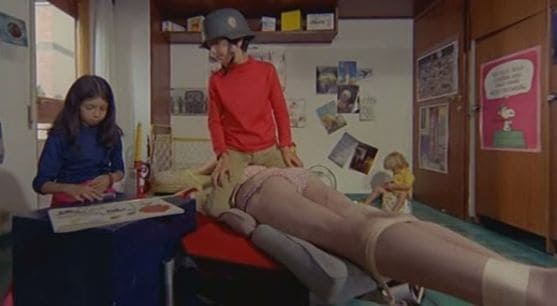 Yet the story of this 1969 film has motifs similar to some films nowadays – mainly how society and the media influence the youth. But grasping that idea could prove challenging, as the whole story develops in a distinct, yet odd, way. The film's soundtrack is courtesy of the Italian compositor Ennio Morricone whose music you will likely have heard in numerous movies such as Mission to Mars, Malèna  (a Coming-of-Age film), Inglourious Basterds, Kill Bill…etc.
While most European audiences won't notice, I must warn the conservatives among you that, as often is the case with many European films, Cuore di mamma does contain several naturalistic scenes integrated in the plot and lack any real controversial or suggestive nature.
I did not enjoy the film, probably due to my lack of understanding of the period political satire and overtones that were in abundance in the story.  While the attempt was to genuinely capture the spirit of Italian life during the 60s by focusing on one dysfunctional family, somehow the way the story was presented failed to interest me in the characters or make me care about their fate.
Scene from the Movie