"Hope is the worst of evils, for it prolongs the torment of man."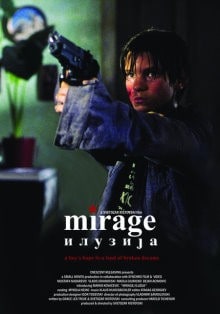 This is the first movie made in the Republic of Macedonia that I saw (see other my review of Golemata Voda (2004) ). I am still under its influence when I am writing this review, and I can assure you that once you have seen this movie, it will leave a lasting impression on you. Shown first at the Tokyo International Film Festival festival in Tokyo, Mirage is a prime example of quality European cinema.
When the movie started, I paid attention mainly to the surroundings as, for me, the director wanted to show the atmosphere in which Marco lives. But who is Marco? 12-year-old Macedonian boy -full of emotions, talent for writing, and dreams for a better life. The first few scenes reveal little of his personality as the directors show various scenes of Macedonia's turbulent life. Those scenes seem to prepare the viewer for what he is about to see, explain the characters' mentality, and set the overall tone of the movie. Even though these scenes are filmed professionally and the viewer is warned at the very begging of the movie that hope can not do any good – the viewer still is not fully prepared for what is about to happen in the course of the movie.
I have noticed that many young actors are now making memorable debuts and seventh-grader Marko Kovacevic is no exception. His character could be a real challenge for many much more experienced actors. Marco's role is a symbiosis of two distinct words – the world of a young poet – his private world and the life in Macedonia, its social and economic climate seen through the eyes of a sensitive and innocent boy. Sadly this innocence is about to be lost as the story unfolds.
The life of Marco is not an easy one – he gets bullied at school, his father is an alcoholic – his sister is a rebel – his mother seems to have accepted a submissive way of existence, taking care of her family/husband. In one of the scenes, Marco asks his Mom if she could guess who wrote the best homework/story at his school – a typical question for every kid who did a good job and wants to be appreciated by someone, the closest one – the parent- she does not make a single comment or reaction to that question. Marco starts hating his home – the only place he can be alone with himself in an old train wagon in which he spends his time – thinking, dreaming, and playing chess by himself.
The teacher of Marco recognizes his talent and tell him that if he does well on writing a poem about the country he could be sent to a competition in Paris ( the city of life). The words of his teacher really influence Marco and he sees a way to escape from his harsh reality by winning the competition. Soon after Marco is about to find out that hopes and mirages are both dangerous and not always real as the world around him is far from ideal.
It is scary – I was scared by the truth that lies in Marco's realizations for the world about him and life in general. A number of times there were people who like Marco's teacher recognized in me one or another virtue and then I have seen that there is a lot of hypocrisy in their words. On a side note – that's how I find myself in the States a few years ago.
There are several role models which Marco can choose to follow – his teacher is one of them. He proves not worthy later on. But Marco meets Paris – an ex-soldier who is more or less a criminal – living by the laws of the jungle "Eat of be eaten". One could conclude that life hasn't been easy for Paris, but his strong character helped him survive. Marco learns a lot from their conversations – but in the end, he is disappointed by him as well. At one moment, Marco thought that he could avoid the beating by joining the bullies – yet another mistake that proves one of the rules I live by – Be what you are!
Betrayed by everyone – Marco decides to act….and then the ending comes.
Mirage is one of the most hash and influential coming-of-age movies I have seen so far. I highly recommend him – however, keep in mind that :
"Mirage" is not, by any stretch, a pleasant film to endure. Its harshness may agitate those who are not used to such a bleak depiction of life.