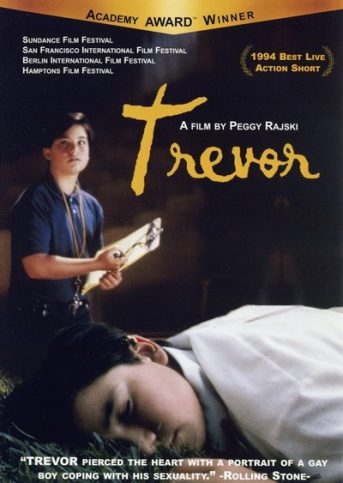 Trevor is the first short movie I watched – I mean the first one. That type of movie – which lasted for only about twenty minutes- was unfamiliar to me. The initial announcement was excellent at the movie's beginning – actually as good as the movie itself. I think that many people do need such positive encouragement more often. Here is the place to mention that  Ellen DeGeneres introduces the film by saying that understanding what this film is about will help the viewer understand what it feels like not to be a part of everything. She explains that the film is for everyone who felt awkward or embarrassed at being excluded.
The movie itself was well made as well – especially its soundtrack – mainly Diana Ross – but there is so much more to the film than just that. The storyline follows a young 14-year-old boy called Trevor (Brett Barsky) who tries to make sense of his life and surroundings. He feels different than the rest of his life – not really fitting into the picture – living with his inattentive folks in suburbia. The story is told in Trevor's first-person – as he narrates the words he writes in his personal journal. Trevor has a charming personality – he is artistic, smart – like his life and wonders why anyone would think he is strange. After all, what's so strange about being himself?
The viewer can quickly associate with the young Trevor and get a glimpse of the world through his eyes due to how the story is told. Trevor is a film for each of us – a film for youthful confusion, for acceptance and individualism. If you have 20 minutes to spare – they will be best spent watching this excellent short film.
The short film Trevor, directed by Peggy Rajski, won several awards. Among them: an Oscar in 1994 for Best Short Film, Live Action, and received first place at the Berlin International Film Festival, San Francisco International Film Festival, and the Sundance Film Festival.
Trevor Trailer
http://www.imdb.com/title/tt0111486/combined
If you liked the Trevor review —  or have seen the film and would like to see a similarly themed short film, but with a different twist —  theskykid.com highly recommends the short feature  James, starring Connor Clements. You can find a review of that film and a short interview with its director on theskykid.com by following the link below: