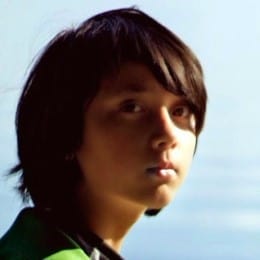 In the great rock tradition of bands like Metallica, Nirvana, Pink Floyd, AC/DC, Led Zeppelin and many others, meet Felix the Rock, a young artist from Seattle.
Searching for biographical info, one can find only the basic details: he's 13, first guitar at age six, several live performances in the last few years. Aside from that, Felix is something of a mystery.
But let us concentrate on his music, especially his original creations – all precocious and genius! Felix swears on his "bible" (his two most precious things: his guitar and his room) that his creations are his own, so let's look at what they say.
Guitar Virtuoso
In Death Wish, a brilliant dark paranoiac anthem, Felix shows off his lead guitar skills and his fine ability to compose a song that carries us along in powerful variations. This is about the disruption of peace and loss of faith in the integrity of others. He sends us crashing down towards fear and insanity.
Screams of laughter,screams of fear
As we fall into the night
Your death wish in one hand
Carrying on the Rock Tradition
From the opening slide to the first chords, we know we're hearing an e-guitarist who has great control of his instrument. The vocals soar as the song builds up dramatically in a video shot on a railway track, symbolic of impending disaster.
When the midnight howls
It screams in misery
And then it leaves the world to burn
Felix's rock creations border on the level of skillful guitarists like Gary Moore and Joe Satriani. Check the kick-butt solo at 2:45, changing effects three times up to 4:20. Poli!
In his original Roots, Felix also plays bass guitar and drums. The intro section is balanced and leaves us curious. This song is an affirmation of homeplace, a pounding hymn to the transient nature of life.
I see the fires burning
It started with the strike of match
And it all comes down in a blood red haze
I was born to die here
The lyric lines, with their high long drawn out notes, fit brilliantly with the music. The guitar solo after 3:35 leaves my mouth open, with jaw dropped in disbelief. Fast-Fingers-Felix! To authenticate, the video focuses mostly on Felix's guitar work.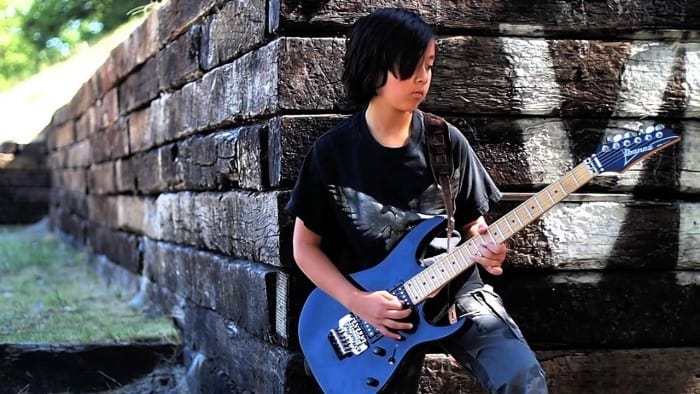 Beautiful starts out very Zen-like, looking over a bay. Wearing a green hoodie, the artist fades in and out of the waters. This is a haunting love song, at times almost like a kid's keyboard melody, but serene and mellow, with terrific solo licks after the four minute mark.
The chorus lyrics and music show how advanced Felix is musically and emotionally.
Your heartbeat echoes through my head
Slow or fast, pick your poison
And it bursts open my heart
And leaves me drowning in your wake.
There is no doubt that Felix is a youngster with a great creative talent. More importantly, he is carrying on in this Rock tradition. He is the honest voice of a younger generation, with its fears and trepidations, but also its hopes and affections. It will be very interesting to discover what Felix invents in the coming years.
Felix Bosques Harima on  YouTube , Twitter and SoundCloud