Singing Sensation Frank Dixon
Continues To Win Awards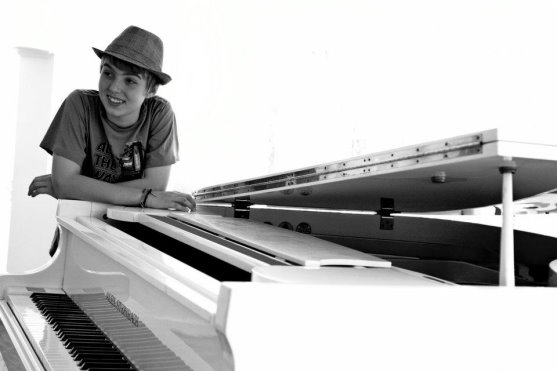 Thirteen-year-old Frank Dixon is a fast-rising singing star from Australia, who is known for the original music and lyrics of songs he performs himself. He has already won numerous awards and added another the first weekend in March 2012. At the Youth Singer-Songwriters Competition at the Sydney Road Festival held in Brunswick, Melbourne, on March 4, Dixon won first place.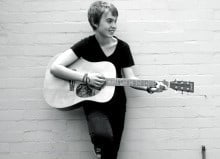 The young singer and his original music have been available for viewing on YouTube for more than two years. It was this exposure on YouTube which brought him to the attention of a management company in Los Angeles. The blonde-headed, blue-eyed Dixon commutes between Australia and LA. In California, he is recording his own music and working with Grammy Award winning producers. Back in Australia, Dixon is continuing to study at the David Jaanz School of Singing and to receive vocal coaching twice a week from David Jaanz, considered the top in his field in Australia.
Frank Dixon's first video clip for his original song Moving On
Dixon's songs have been compared to those of Elton John and Billy Joel. His writing style is said to echo their work from the mid-1970s. Another aspect of Dixon's songwriting is that he writes to touch the heart of his audience.
Dixon as a Singer, Actor
By the time Dixon was 11-years-old, he had released his second single on YouTube and was performing regularly in and around Melbourne and Brisbane. Ever busy, this young man was touring with the Young Voices of Melbourne, and performing with the choir in the Gold Coast and Brisbane.  Also by that age, Dixon was doing back-up vocals for the group Miami Horror –  Imagination.
He is the youngest singer to have ever performed at the prestigious Bennetts Lane, a well-known and popular jazz venue. There, he performed his original song I Told You So in a show called An Evening of Original Artists. He was named the winner of the 2010 Dream Inc. singer/songwriter prize. Part of the prize was a development deal that brought him into the sphere of professional musical producers.
Frank Dixon performing at the prestigious Bennetts Lane
While Dixon's career as a musician appears to be soaring, his acting has not been neglected. The young singer/songwriter/actor/model was selected to play the role of The Boy in the Melbourne season of Waiting for Godot. The cast was led by the incomparable actor Sir Ian McKellen. Dixon also won a role in the Wizard of Oz and has acted in seven films. The largest and best known of these being An Illness at the House. In addition, Dixon has been employed on Channel 7's Sunday Night program.
Among his works are Lost In This World, from 2012; City of Flashing Lights, called a masterpiece by one reviewer;  Nothing Left; and Jigsaw, along with numerous others. At the tender age of 11, following the Queensland Flood, Dixon wrote Heartache in the Water as a tribute to victims of the disaster.
We encourage you to follow Frank on Twitter and Facebook and YouTube .  
Don`t hesitate to spread the word about the talented young singer by sharing this article with your friends.