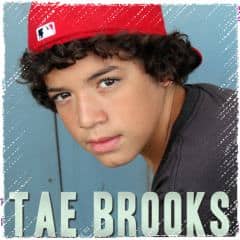 I'm not sure what it is about Tae Brooks I like so much. Is it the natural exuberance beaming out at me in his videos? The clear bright voice which even sounds great a capella – like in his cover of Soldier by Gavin de Graw? Or is it the unpretentious teen-swag style that loves to have fun singing? Maybe it's all these plus a fine professional precision in a flexible voice able to sing both suave and soft as well as Hip Hop teeny crush tunes.
Taelyn Bryce Brooks, who is 14 until October, came from Cincinnati to LA with his family to get closer to the entertainment scene. His mom and brother shoot very pro-looking videos of him and their home studio creates a superb sound.  His brother produces, edits and also plays guitar for some songs. Which leads me to another thing I like: the family concept behind the music!
To date, Tae has presented three original songs which are being viewed massively. His first single Thumbs Up  is a Hip Hop type song about teenage sentiments. Tae sounds a touch like Aaron Carter here. Dreams Come True  is a boppy pop-rock introspective tune about saving love and dreams revived by that love. It has 40,360 YouTube views at the moment this article is being written.
The stunner, however, is the newest song produced together with a young Rapper called Prodigy who Tae met on Twitter. The result of their collaboration, called We Stand, carries a powerful  message against mobbing, bullying and abuse, and it's making big waves on many web sites!
Tae has bright eyes and a head of curly hair and also likes to slapstick it on his Keek site where he takes good care of his fans. I asked Tae's Team if he had ever taken vocal lessons.
"…We stand, as one cause wrong is wrong
We're not gonna let you stand alone…?"
 "His voice is just naturally that way.  He's always had excellent pitch. He's only had help from his family, no actual vocal training. He has a really good ear and can hear what he should and shouldn't be doing when singing. So he's his best and his worst critic".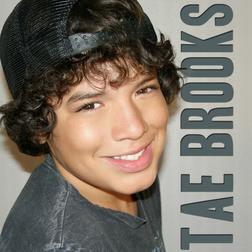 Of the many fine covers on YouTube, I picked a few to highlight. His cover of Rihanna, You Da One, is well mixed and sung. Tae does a fine a capella version of Chris Brown's Crawl and Far Away is about missing friends and family (some of whom are deceased).  Tae also covers How to Love by Lil Wayne;  Angel by Cody Simpson, It Girl by Jason Derulo and many others. His Justin Bieber covers are excellent: Mistletoe, One Time and Pray are all fine versions. My favorite is Tae singing Skyscraper by Demi Levato,  in his own persuasive style.
On a personal note, Tae likes to swim, play video games and read. He loves food and often visits Chipotle or In + Out. As a singer, Tae has a refreshing, spunky swag style that is balanced with humor and sensitivity. He is a unique talent in the making and I wish him much success. I've gotten word that some exciting offers are being considered for Tae Brooks, but that is news his team will reveal at a later date.
You can find  Tae's  songs on iTunes and hear him on these sites.
rjmendera for theskykid.com