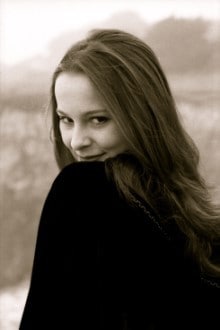 She is an opera singer for pop fans who don't like classical music. She is a pop singer for classical purists who would never admit to listening to Lady Gaga or Taylor Swift. With the voice of an angel and the soul of an artist, 16-year-old Julia Belanoff is a rising soprano whose ballads—each a unique blend of classical and contemporary—are exquisitely beautiful and contemplative without being boring. The music is peaceful and uplifting; the kind, she says, that teenagers, parents and grandparents can enjoy, together.
Case in point: Goodnight San Francisco, the first release from Winner in Your Heart, Julia's debut album of songs that have a classical foundation, and yet are refreshingly innovative. Described as a love song to the city where Julia grew up, Goodnight is deeply personal, yet universal.
"The most famous song about San Francisco is probably I Left My Heart in San Francisco," Julia says. "My song is about finding my heart in San Francisco. This is a city that accepts all kinds of people. It's a city of love."
Backed by lush orchestral music that evokes images of a lazy stroll on Nob Hill or a ride on an old-fashioned trolley car, Belanoff's lyrics paint a vivid picture of the City by the Bay: "Windy streets where we meet, free to be you and me, summer chills on the hills, fog's embrace, wind in my face, San Francisco, where so many dreamers go."
Julia Belanoff is one of those dreamers. Passionate about life, art and people, she is a straight-A student who is as serious about her academic pursuits as she is about performing.
"I'm very interested in school," she says. "I spend a lot of time thinking. I'm always wondering about scientific questions. I love nature. I love to write about beautiful trees and the way the sun sets."
In addition to attending high school, Julia studies voice at the acclaimed Notre Dame de Namur University in Belmont, California, under Debra Lambert, chair of the university's Department of Music & Vocal Arts.
"Debra has taught me about the classical side of things and has really given me a strong basis," Julia says. "We study a lot of Mozart and old French pieces. She has inspired me to study opera more seriously."
In the Spotlight
Long active on Bay Area theatre stages, Julia has co-starred in such productions as Coraline, Beauty and the Beast, The Secret Garden, Annie, The Effect of Gamma Rays on Man-in-the-Moon Marigolds and many more. One of her most challenging roles was that of Anne Frank in The Diary of Anne Frank, the true story of the Jewish teenager who hid with her family in an Amsterdam attic from 1942-1944, until they were captured by the Nazis and sent to a concentration camp, where Anne later died from typhus.
Determined to learn as much as possible about the character, Julia, who was then 14, persuaded her parents to take her to Amsterdam to visit the attic. It was a sobering experience for her, to be in a place where such suffering occurred. The effort paid off, as Julia later delivered a powerful, heartfelt performance during a four-week run of the play, attracting excellent reviews..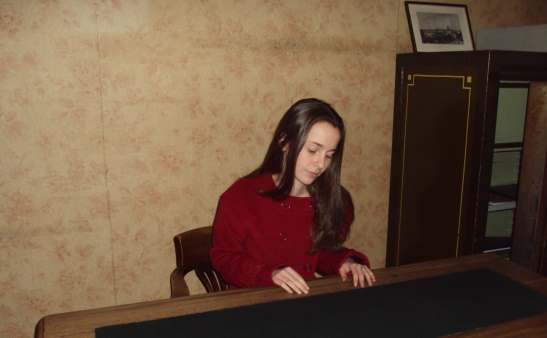 Julia Belanoff at Anne Frank's desk
"I sat at Mr. Frank's desk, exactly where Anne once wrote in her diary so many years ago," Julia says. "Words cannot describe how meaningful this opportunity was for me. When Anne occupied the very same seat, it was only a chair. To me, it was a relic of traumatic times. I still wish, more than 65 years after her death, that I could rescue Anne and share everything I have with her."
The importance of being able to relate on such a personal level to the characters she plays was strengthened through Stagedoor Manor, the acclaimed performing arts camp in the Catskill Mountains of New York, where Julia has studied each summer for four years. The camp attracts young, aspiring actors from around the world, where they perform in full-scale, semiprofessional-quality productions.  Alumni include such well-known actors as Natalie Portman, Robert Downey Jr., Mandy Moore, John Cryer, Lea Michele and others who have gone on to achieve success on stage, screen and television. It was at Stagedoor Manor that Julia Belanoff appeared in two of her favorite roles: Emily Webb in Our Town and Natalie in All Shook Up.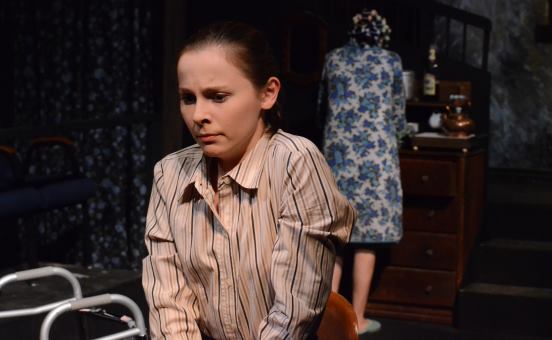 Julia Belanoff in The Effect of Gamma Rays on Man-in-the-Moon Marigolds
Credit:  Photo by Jay Yamada
Julia's father is renowned Stanford University psychiatrist and pharmaceutical executive Joseph Belanoff, M.D. More scientist than artist, he has always supported his daughter in her musical and theatrical endeavors, but admits that she gets her artistic creativity more from her mother, Katherine Blenko, M.D., a classically trained pianist and singer.
"Julia's musical talent didn't come from me," Dr. Belanoff says. "She's been singing out of her own interest for a long time. It's entirely self-driven. The music she is doing is entirely of her own choosing."
And that of Max DiCarlo, whom Julia met in the spring of 2011. The Los Angeles-based music producer quickly recognized in her a kind of untapped talent that had long attracted, but eluded him. A classically trained musician and composer, DiCarlo had previously scored movies and TV shows. He is also known for his work with such pop artists as Elton John, Celine Dion, Donna Summer, the two-time Grammy-nominated Latin group RBD and new country artist Claudia Lee. But DiCarlo, a native of Italy, grew up loving opera, and always wanted to create an album with more of a classical feel. With Julia Belanoff's Winner in Your Heart, he has achieved that goal.
"What's interesting about Julia is that she's got a big voice and very pure ability to hit extremely high notes," DiCarlo says. "That is rare for a teenage singer."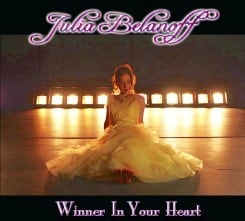 A junior in high school, Julia would one day like to move to New York —  if not to attend college, then perhaps later — to pursue her dream of making beautiful music. Whatever the future holds, wherever she may end up, she will always consider San Francisco her home. It's why she decided to release Goodnight San Francisco as the first single from her first album. It is her own special tribute not just to her city, but to her family.
"In the song, I sing 'Happy Dreams,'" she says. "It's what my mom used to say when I was a little girl and she was tucking me in at night. With this lullaby, I send joy to the dreamers who find love in the City by the Bay."
 Julia Belanoff's music is available on iTunes. More information about her is available at www.JuliaBelanoff.com
==================================================
Guest article by  Fred Anderson,  a Los Angeles-based publicist and creative consultant who works with actors,  filmmakers, musicians, comedians and authors.
==================================================