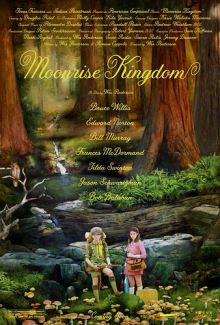 By far, this is one of the best films I have seen in the last five years. Moonrise Kingdom is Wes Anderson's finest work. Set in 1965, a pair of young lovers flee their New England town, which causes a local search party to fan out to find them. What follows is a hilarious and amazingly beautiful adventure that takes our young characters on a grand Coming-of-Age journey.
Anderson displays a very stylistic and un-conventional approach here, not only with his story telling, but with his camera techniques as well —  utilizing a number of dolly shots and long zoom-in's on characters. I wasn't huge on the continued overuse of these techniques. However,  I can understand it in the context of the overall style and tone of the film, making for an interesting analysis into why these particular shots are used and when.
The core theme here is true love, and what that means in a world filled with routine and hypocrisy. Anderson poses the question:  Is it possible that the truest form of love is found in childhood, as this love is found in a world that is completely removed from routine and the worry of external factors? I thought this was a great message and one that could be argued as being very true as I, for one, believe it to be.
Kara Hayward and Jared Gilman are the young leads in Moonrise Kingdom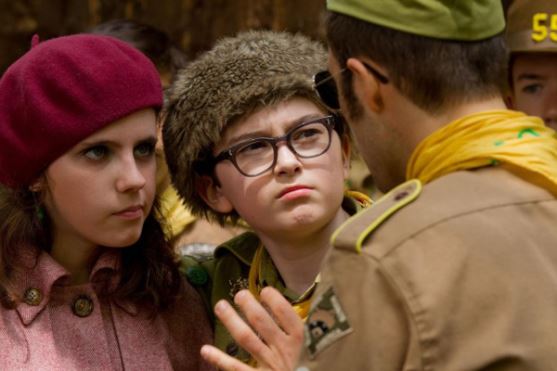 The film also addresses the hypocrisy of the adult world, and how we adults often commit virtually the same crimes we preach to our children not to.
I thought the film captured a fantastic moment in childhood as well: first love, and a companionship that can only be found in our tender years.
Another great thing about how this story is told is its simplicity, especially in terms of the love shared between our two main characters. Nothing is over dramatized or over-the-top in any way. There is no grand music or in-your-face actions to spoon feed us what we should be feeling. It is all said in little simple, real (and sometimes raw) moments. The naturalistic portrayals, especially of Sam (Jared Gilman), the main male protagonist, are extremely well played out. I'd go as far as to say that this is one of the most pitch perfect performances from a child actor I have ever seen. Jared Gilman and Kara Hayward (Suzy) are another two great examples of child actors who have given amazing performances in their debut film.  Their individual portrayals are so true and so believable in the environment, with some really nice, small moments between them as well.  Besides recognizing the talents of these young actors, kudos must go to Anderson on the direction as well.
Sam and Suzy on the Beach in Moonrise Kingdom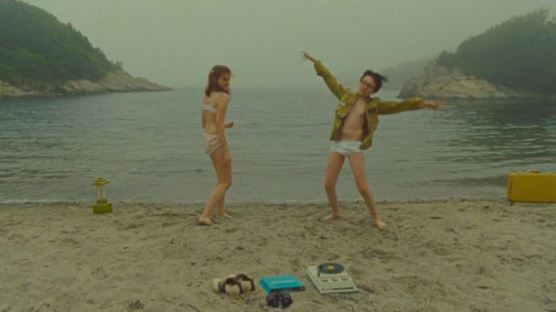 I loved the locations used, the color scheme of the film and the production design. The costumes are fantastic and vibrant and the beach exteriors are majestically beautiful. This is all accompanied by a great soundtrack that is filled with a range of different tracks and genres of music.
My only real criticism of the story was the motivation of some of the characters and the lack of justification for their actions without prior indication. I won't say anything past that as it would contain spoilers. In the context of the film as a whole, though, this was a minor issue.
I really loved this film. In fact, I adored it. To me, this film illustrates how you tell a story and it should be used as a prime example of innovative, original and downright good cinema in the 21st century.
Moonrise Kingdom (2012) Official Trailer
Rating: 9/10
PhoenixEast's Rating System:
<5 Bad/Fail
5 Borderline Pass/Poor
6-6.5 Average
7-7.5 Good
8-8.5 Great
9-9.5 Amazing
10 Masterpiece