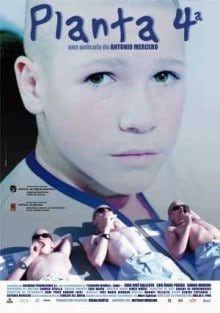 When one sees the poster for the 2003 Spanish movie Planta 4a, the associations with a heavy drama are almost guaranteed. Children, cancer and hospitals – most Coming-of-Age films that feature similar elements take its toll on the emotions of their viewers (see The Last Snows of Spring, Ways to Live Forever, Matching Jack and Oscar et la Dame Rose). That might be the reason why I hesitated for months before I finally decided to watch Planta 4a. I was sure it was going to move me, but I doubted it would offer any surprises, as most "tear-jerker" styled films tend to have a certain degree of predictability.  Most — but not all…
Based on real events, Planta 4a tells the story of a group of teenage boys who are recovering from chemotherapy treatments at the Hospital's Traumatology ward. The film focuses on their day-to-day life as the boys form friendships, fall in love, learn the importance of solidarity and self-acceptance –  as they grow up in the self contained space of the hospital (an alternative universe to the outside world).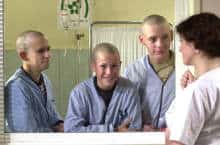 Planta 4a is a memorable film and, aside from the distinct, well-narrated story, it offers first class acting performances and skillful directing. In the 80's, Antonio Mercero directed the famous Spanish television show Verano Azul  (Blue Summer) – a must see for any real fan of the Coming-of-Age genre.  His expertise working with a youthful cast really shines through in his work with the teen-aged actors in Planta 4a. For their part, the actors delivered flawless performances, especially the young Juan Jose Ballesta who I remembered from his lead role in the powerful Coming-of-Age drama by Achero Mañas, El Bola. He is one of the best young Spanish actors and is the second youngest winner of the prestigious Spanish film awards Goya.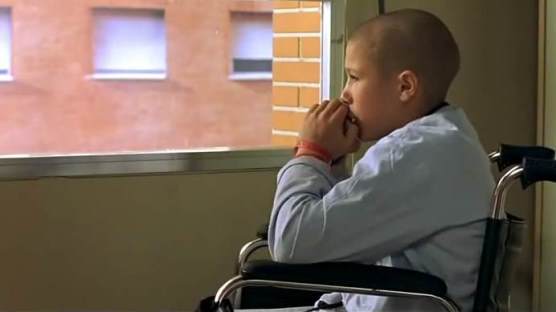 Juan Jose Ballesta as Miguel Angel in Planta 4a
Much attention has been paid to character development in the film.  Each person is an entire universe unto himself.  As the story evolves,  one learns a great deal about the characters and their personal histories and experiences.  Although the film deals with serious issues and situations, the plot features as many happy as bitter scenes – a unique mixture of dramatic and comedic innuendos that achieves enteraining the viewers while still keeping them involved with the characters on screen —  their youthful mischief, feelings and hopes.
Planta 4a ends up being an inspirational, "feel good" movie which tackles a difficult theme in a manner that no other film has accomplished. It can potentially change one's perspective of sickness and character strength. I really enjoyed the movie and recommend it highly to the readers of theskykid.com.
http://www.imdb.com/title/tt0319917/combined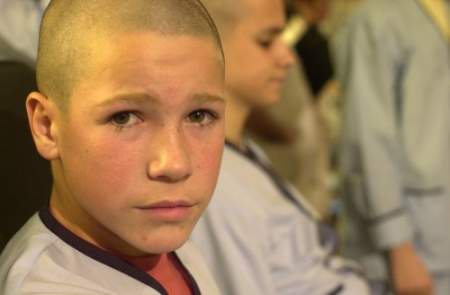 Highly recommended
Planta 4a is an inspirational, "feel good" movie which tackles a difficult theme in a manner that no other film has accomplished.