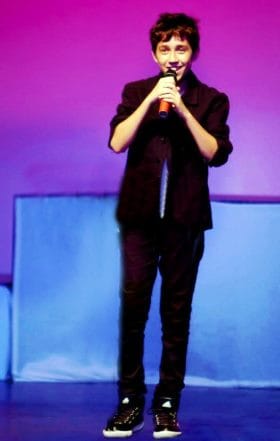 I remember well the very first time I heard Sam Verlinden sing.  It was on a video on YouTube and the song was called Sweet Child of Mine. When I first listened to this song, it just BLEW me away! So after I found my way back home, I turned down the volume and listened to it again. I knew instantly this young man was destined to be a star! I was hooked! A Sam Verlinden fan I had become.
From there, I went on a quest to watch Sam's many videos on YouTube, which have nearly two million combined views on them thus far. Being a True Rocker at heart, I instantly fell in love with two more of Sam's famous songs, We Are the Champions and Stairway to Heaven! I also enjoyed It Will Rain, Hallelujah, One Voice and Forget You. It became abundantly clear that Sam has a natural ability to sing  just about any type of song, with a vocal range that is virtually limitless. I tease Sam that he could sing the phone book and it would still sound great!
Cee Lo Green – Forget You – cover by Sam Verlinden
Sam has a single available on iTunes called Break These Walls.
Comment: "Fantastic rich vocals, great sensitivity and passion! Could listen to this for hours! Looking forward to the next single."
Samuel James Verlinden came into this world on 1-October-1997 in Wellington, New Zealand.  Sam is now 14-years-old and calls Auckland, New Zealand his home, after his family moved there in 2005. He is the youngest of three siblings and lives with his parents Glen and Bronwyn Verlinden, sister Emily and two Burmese cats named Coco and Cola. Sam also has an older brother who lives and works in Sydney, Australia. Sam's grandmother is a Rarotonga Cook Island descent, while his grandfather is Dutch.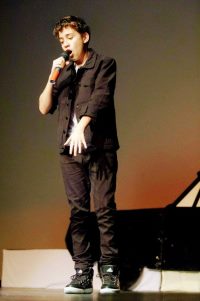 Sam participated in the World Championship of Performing Arts in Hollywood in 2008, representing New Zealand. In the junior competition, he won six gold and three silver medals, the "Industry Award" and five plaques for overall Junior Champion of the world. He was just 10-years-old at the time.
Sam's impressive singing ability gives him a broad spectrum of music genre's from Pop, Soul, R&B and Classic Rock. Sam has recently added New Generation Pop, a bit of Edge Rock, MB, and Techno to his genre list.  His influences include Michael Jackson, Stevie Wonder, Beyonce, Justin Timberlake, The Beatles, Bruno Mars and, of course, Justin Bieber.
He's a big fan of Rugby and plays that sport for his high school and then plays Touch Rugby in the off-season.  He describes his number one goal as playing for the All Blacks, singing the National Anthem and leading the Haka all on the same day.
Sam supports two New Zealand charities and has performed for the Variety Voices choir. Variety Voices is a New Zealand charity that raises money for Canteen (Teenagers with Cancer). He also contributes his talent to the Down Syndrome Annual Buddy Walk.
Sam is currently working with vocal coach Stuart Clarke and world famous singing coach David Stroud in order to tune up his vocal abilities for his upcoming music videos. He is very focused on his music career and is hard at work in the recording studio with his producers on many NEW songs. The best of the best will be used as a promo as Sam seeks a recording contract. I have a feeling there might be a CD in the forecast for Sam in the near future! Stay tuned for updates as Sam continues this amazing  journey.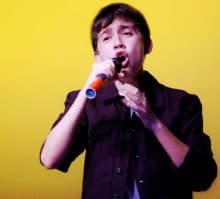 You can go to Sam's website at www.samverlinden.com and check out his biography to learn how Sam came to be the amazing singer he is today. Subscribe to Sam's YouTube channel and check out his impressive line up of Music Videos . Become a "friend" and find out the latest, up-to-date information on Sam's Facebook page.   You can also follow and Tweet with Sam on Twitter @SamVerlinden.  And finally, for all the latest gossip news about Sam Verlinden, you can join me, "Agent M", at Sam's new Fan Club @Official_SVFans.
Always remember: It's important to follow your dreams, as you never know what awaits you at the end of the tunnel!  Sam is following his dream and that dream is about to come true!  We, his fans, are so grateful he is!
Guest article by by Michael Love (Agent M)  – Founder of the Official Sam Verlinden Fan Club