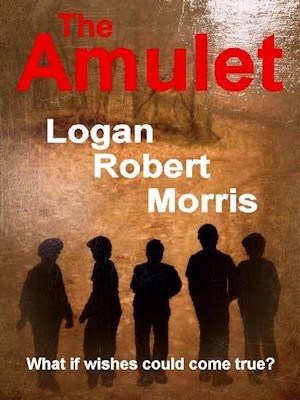 Although set in the late 1950's, this story is timeless and will strike a chord even today!
The Amulet, written by 14-year-old Logan Morris, is a pacy jaunt with loads of good 'kid fun' that has you flying through the pages. And to borrow a line from the movie Stand by Me, based on the story by Stephen King …
"You will never again have friends like those you had when you were 12 years old."
School holidays had begun, and the adventurous 12-year-olds were off to spend a couple of days at "Kurt's cabin" on the Fleming farm property, where the boys could let their hair down and have a cigarette and perhaps even a beer or two.. and as you witness their excitement you can so relate to their mind-set.
Writing a short novel at age 14 is quite a contract, but for a first time effort, Logan does this with skill and confidence. And while gently drawing us into his magical world, we are reminded of our own childhood adventures and smiling and nodding our head as we turn the pages.
Buddy's life changed forever when old Mr. Thomas died. And the amazing gift he left behind would challenge and shape Buddy and Mikey's character and morality into the future.
You felt a sick satisfaction when school bully Leonard Evans got his just deserts; and your pulse raced as Buddy and Mikey did a night time lap in the Chevy Corvette, with the music up and the roof rolled back!
But all fun and jest to one side… this is really a story of how 'too much of a good thing' can have unwanted consequences that can even kill – look what happened to Mr. Thomas!
Logan's story is an easy-to-read adventure that questions values from a child's point of view. Skillfully written… it has you not wanting it to end.
Bravo!
The author of The Amulet, Logan Morris lives on east coast U.S.A and is just 14-years-old. In addition to writing novels, he writes poetry and composes song lyrics.
You can find his book at Amazon.com