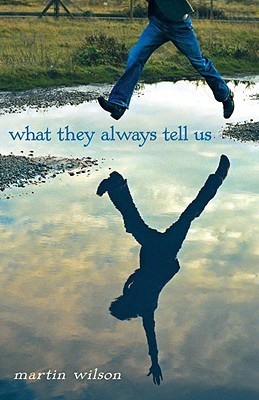 What They Always Tell Us by Martin Wilson is an interesting young adult's novel which focuses on the family life and rite-of-passage of two brothers who live in Tuscaloosa, Alabama.
Its narrative is character driven and, while it includes coming-out themes with regards to one of the brothers, the duality with which the story is presented provides something of interest for everyone.
Author Wilson presents the life of the two brothers in parallel, having each chapter devoted to one of them so that the reader is able to get a grasp of their own subjective take on the events that happen to them and their lives as a whole.
The first person narrative by the two brothers (16-year-old Alex and the slightly older James) ensures that anyone looking for a kid's eye view of the world and a recollection of Coming-of-Age experiences will not be disappointed.
"It dawns on Alex that Henry is sort of a younger version of himself—an outcast, a misfit. A weirdo. And he's not even in middle school yet."
An intriguing character in the book is 10-year-old Henry who suddenly moves into a nearby house with his mother. He is a sensible and smart kid who manages to strike up a friendship with Alex.
"A kid friend is better than nothing." – that's what James thinks about their unusual friendship.
As far as character development is concerned, Wilson leaves little to be desired.  One gets a pretty good idea of what's inside the mind of a teenager – with all the typical ingredients: a struggle to fit in, a desire to be appreciated (loved), school and aspirations for the future …etc. Teenagers reading the book, especially those in the US, will find it easy to associate with one or more of the characters in the book.
"Some secrets parents can never know. They wouldn't want to know, probably."
The author wrote it true to life, with little or no pretense, controversy or sensationalism. Being used to reading adventure books filled with plot twists or that feature uncommon themes, I was initially afraid that I would be bored by a narrative presented in the manner of a television teen drama queen soap opera.  Yet, What They Always Tell Us grew on me as I felt I began to know the characters better and better with each chapter, and then I found myself wanting to see how it all tied together in the end.
One could say the novel won me over with its "normality". It won't move the reader to tears or otherwise provide for much emotional involvement, but it's a good story focusing on important issues such as social isolation, peer pressure, teen sexuality, friendship and self-discovery.
Unlike other books I have read, I haven't come up with many intriguing quote worthy phrases, yet the book premise promised and then delivered a decent reading experience for me, which is why I extend to you my recommendation for it.