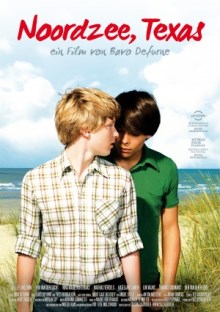 Every moment of every day of our lives we make choices, reflect on our past and shape our future.  Yet sometimes we forget that the choices we make can affect the people around us too. The 2011 Belgian film North Sea Texas, whose story is focused on love and the confusion of youth, aptly addresses the importance of one's decisions.
The lead character of the story is Pim, a young boy who lives with his single mother in a big house on the Belgian coast. Unlike his flamboyant mother, who as a performer (she plays an accordion)  is frequently on the move , Pim in an introverted kid who spends a lot of time by himself dreaming of a more exciting existence than the mundane routine of the everyday life he leads.
One day Pim meets Gino, an older boy who lives with his sister and mother. The hero-worshiping and admiration he feels as a kid transform themselves into stronger feelings as a teen.  A crush develops into love – a first love for the young boy. The intensity and truthfulness of their relationship are unquestionable for Pim.  And, thanks to the warm-heated, emotive way his feelings are portrayed, it is likely that the film's viewers will also recall the years of their first (real) love!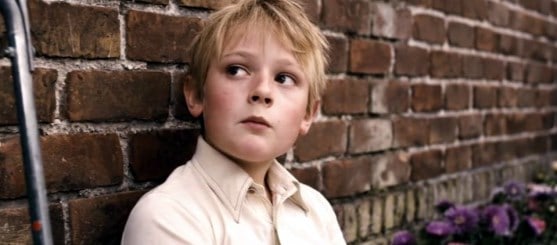 Ben Van den Heuvel as the younger Pim in North Sea Texas
Soon after his eighteen birthday Gino purchases a motorcycle, finds a job in the city and meets a girl.  The special bond he shared with his younger friend seems forgotten – its importance lessened to that of a silly childish game. When Gino moves out to live with his new girlfriend, Pim is crushed. Gino's sister, who has always liked Pim, decides to admit her feelings for him.
As a fan of the Coming- of-Age genre, I enjoyed the movie's emphasis on the adolescent experience of its main character. Jelle Florizoone is brilliant in the role of Pim and manages to eloquently portray the internal turmoil and poignant moments of his character's story in a sensible and natural manner. I was able to identify with his perspective and believe that most viewers would also — regardless of their sexual orientation (Although the film is gay-themed, one should be appreciative enough when real feelings are involved).  Jelle's performance made me recall the protagonist Antoine Doinel in François Truffaut's The 400 Blows and I suspect Director Bavo Defurne intentionally referenced that character from that Coming- of-Age classic. The film also made use of the familiar image technique by focusing on a shoe box in which Pim kept important objects — memorabilia revealing his inner world.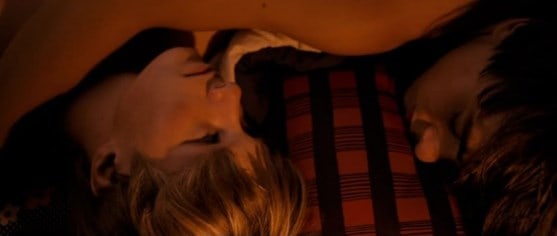 Pim (Jelle Florizoone) and Gino (Mathias Vergels ) in North Sea Texas
North Sea Texas pleases with its photographic qualities. Brightly lit scenes and vibrant colors, and retro-themed set (somehow typical for the Belgian cinema) fit right in with the film's theme.  At the same time, the Director of Photography, Anton Mertens, used outdoor scenes (such as a desolate beach and harsh wind passing through gloomy weeds) to emphasize Pim's state of mind after he discovers the betrayal of his hero.
The narrative offers some surprising twists for both audience and its characters, which made me nervous about the finale of the film. Those twists, however, compensated for the relatively slow pace of the film.  I was afraid that a weak, clichéd ending would potentially ruin my experience.  But thankfully, though, the "WHAT?" reaction was still present at the ending and I was not disappointed. I would have preferred a more open-ended finale, but since North Sea Texas is based on a novel my guess is that the director has to follow through on  the book's original ending.
Film title: Noordzee, Texas
Also known as: North Sea Texas, Sur le chemin des dunes
Release year: 2011,  Indeed films, Mollywood, Eén
Director: Bavo Defurne
Cast: Ben Van den Heuvel, Nathan Naenen, Mathias Vergels, Jelle Florizoone, Eva van der Gucht, Thomas Coumans and others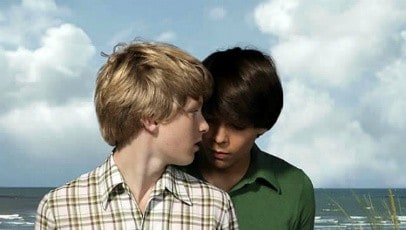 Watch it!
Based on a novel by Andre Sollie, "North Sea Texas" is a story focused on love, the confusion of youth, and the importance of one's decisions.