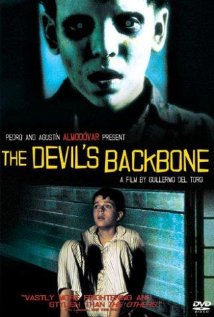 I did not quite get the whole movie , but have to admit that it had brilliant cinematography. It is a well made movie – may be the abstract plot – a ghost story with a twist combined with rather unusual story telling caused my confusion at times. But with Pedro Almodóvar as producer- its obvious that it was not going to be your average movie. The movie director – Guillermo del Toro did a great job in the The Devil's Backbone, which he claims to be extremely autobiographical movie for him
The story is set during the Spanish Civil War – young boy named Carlos is left in an orphanage by his tutor . His father is dead – but Carlos doesn`t know that. Everything is new for him and he has to adapt, to win the respect and friendship of the other boys living the orphanage. And as if that is not a real challenge itself – he has to learn to deal with his own fears.
Some other reviewers wrote that the movie is rather slow paced – but I disagree with that opinion. I enjoyed the development of the story as it allowed me to get familiar with the characters – their positive and negative sides , even their thoughts may be. This became possible thanks to the remarkable performance of the young actors and the rest of the cast. The The Devil's Backbone is labeled as horror movie , but to me it offered much more drama than horror – despite the fact that it gets creepy at times. The ghost in the story is seen mainly by the kids – most of the time anyway. Probably that is what the director meant when saying:
"In so many ways, the movie tries to deal with the ghost of something from the life of the kids, a ghost of something that you lost, something that haunts you, something that you never did." It is a metaphor for the ghosts that haunt one's life, a universal understanding of fear."
I could only add – that the movie did deal with all this haunted visions in one`s life – even in mine – at the house when I go upstairs sometimes I hear whispers , steps – may be this is just my imagination – but my heart beats faster and I run
through
the big hallway to the nearest switch and am getting calm as soon as the lights are on. I never
through
of this – but now after seeing this movie and reading what the director had said about it – all these experiences start making sense.
http://youtu.be/703hNsc5Bvg