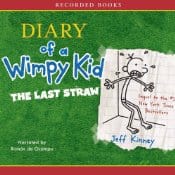 Some time ago, I purchased an audio book called The Diary of a Wimpy Kid: The Last Straw, an unabridged  recording of the third book from the best-selling series from Jeff Kinney. Today I finally got to listen to it. The book is aimed at young readers (Ages 8-12)  – yet it's extremely funny and a great listen for people of any age.  Told in first person as if read from a real diary, the story reminded me of the one in the book Le Petit Nicolas and, similarly, has a movie adaptation (which I'm looking forward to watching).
The main protagonist is the young Greg Heffley who thinks of himself as "one of the most perfect people he knows" – and not surprisingly since he is just about to become a teenager. The audio book is really filled with humorous coming of age stories, which is why I won't hesitate to recommend it highly to the readers of theskykid.com. For the younger readers, I would recommend checking out the story at Funbrain.com where the book can be read online in daily entries ( just like a real diary) and there are also some great cartoons there to accompany it.
After I got the audio book (2 hrs and 16 mins), I found out that the book itself was available at Amazon.com (Diary of a Wimpy Kid: The Last Straw)
as a hard cover book along with three more books from the series and a fourth one is scheduled for release on 9-November 2010. It should be noted that the printed books are based on the stories published online, but with some additional twists.
You may find out more about the book and its author at http://www.wimpykid.com/
Audio book :