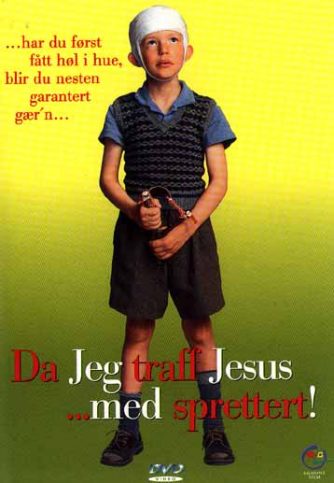 When I got Jesus with a slingshot ( Da jeg traff Jesus… med sprettert) is a charming coming of age tale from Norway.  It feels very nostalgic and biographical at the same time as it is based on the memoaries of the famous Norwegian poet Odd Borresen.
The film is pleasant to watch – as it focuses on the experiences of a boy growing in Mid`30s Norway . The tone is set from the very first scenes  as the protagonist  ( already grown up ) narrates the story of his youth :
" I believe that the day the clock on the wall stopped was the last day I lived in the world of my childhood"
The protagonist himself is not clearly indicated until the fifth minute when  we see a boy sitting on the showers of his dad ,watching the passing planes  and thinking that he has the world of his childhood beneath him .  That`s how the viewer is introduced to the little Oddeman (Fredrik Stenberg Ditlev-Simonsen) who is a  bright young lad trying to make sense of the world and the words and actions of the ones older then him.
And as it usually happens while one of his brother`s friends dreams of growing up , Oddeman is willing to stay on his head in attempt to prevent that same phenomenon. What follows next are some great scenes of the growing up experience – including games in the fields , fear of the dark ( and noises from the attic )  and a winter expedition that nearly ends in disaster.
The acting of the film is quite fine – especially the one of its young leads – Fredrik Stenberg Ditlev-Simonsen and  Martin Eidissen. I would definitely recommend "When I Got Jesus With a Slingshot" to everyone who would enjoy a trip back to his own childhood . The tasteful humor in the films makes it a perfect flick for the whole family.
When I Got Jesus With a Slingshot was the Norwegian entry to the Academy Award for Best Foreign Language Film in 2001.
———————————————————————————————————————————————
This review would have not be possible without the valuable support of CVMC : The oldest movie rental service on the Internet — since 1998.