FOCUSING ON "THE ROAD"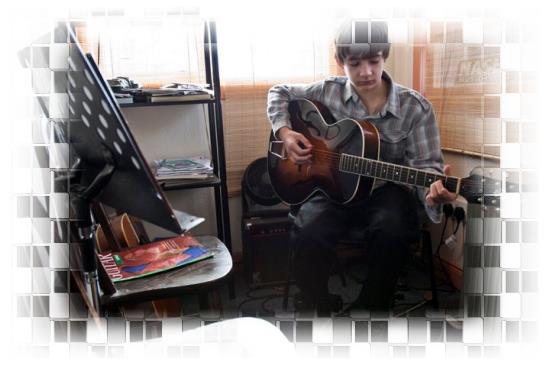 Brendan MacFarlane is 14 now.  He plays guitar and some keyboard.  He lives in Perth, Scotland and sings at festivals and various venues in Perthshire.  His videos on YouTube have over one million views, and he recently expanded to Facebook, Twitter and MySpace. We have been following his career since 2008, when the first short introductory article about Brendan was published at TheSkyKid.Com. In May 2009, an update article titled Amazing Child Singer: Brendan MacFarlane was published to respond to the increased interest in the young singer that many of our readers expressed. Finally, in November of that same year, an exclusive interview titled Brendan MacFarlane – "Tennessee's Best Kept Secret" was included in our ever increasing VIP section of the site.
Now we present a review of his debut album –  THE ROAD.  It contains some of the songs that have already been well viewed on the internet.  This album is unusual because all of its songs are in the same style — a country/bluegrass/gospel mix with a traditional Christian message. To sing in this high-pitched, wailing style requires a lot of air and energy, which Brendan has in spades.  His drawling voice masters the songs well although, in a few spots, I had problems understanding the lyrics.
FOOTPRINTS
Footprints has an almost military, Indian pow-wow rhythm, and Brendan wails out a tune of rebellion against indoctrination. "…said they gonna take me and show me the right road, the path to glory".  These lyrics, however, are facetious; against what or whom he's rebelling we don't know.
GET TO HEAVEN
The shortest song on the album (1:09) is called Get to Heaven. It has a background vocal track that is nicely integrated. "When I get to heaven who will I see?" lists the candidates beyond the Pearly Gates. Apparently Brendan's Dad, George, and his uncle, Bizzy, are the creative force behind these tunes.
GONNA KNOW
Some of these songs sound like classic Southern Bluegrass. One example of this is Gotta Know, which is a warning to live a good life. "You better live your life the best you can".  The instrumental accompaniment on all songs is top-notch!! We hear mandolin, steel guitars and banjo among other string instruments, all with fine clarity.
LOOKING FOR JESUS
Looking for Jesus is an assertion of individual faith with a pleasant, repetitive melody. " I was searching for love but only found hate in the eyes of the baptised who chased me away".  The vocal fade out at the end is weak.
TAKE MY SOUL
Take My Soul has an almost native chant, Cajun rhythm with some finger snapping and feet stomping. The accapella passage sounds great. The song is about rejecting the Devil's offerings, such as Fortune and Fame.
SOULYA
In Soulya,  Brendan sings in the Gospel tradition. "I'm a soldier for the Lord, all I carry is a Bible, while the Devil wields a sword".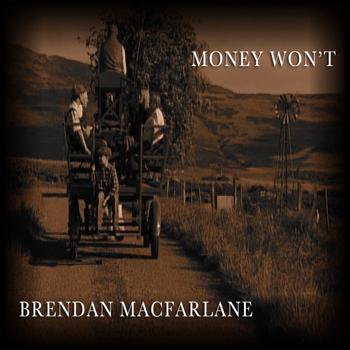 MONEY WON'T
In one of the finest songs on the album, Money Won't, Brendan shows off his vocal talent, dragging tones over, drawling up escalators and down stairwells, all to a simple message: money can't always help you! String instruments sound great here.
WHERE ARE YOU
Where Are You has a snappy country rhythm, hoe-down style, but with a serious theme of Absence.
TONIGHT
Tonight is a country/gospel tune about walking a hard road in life. "I scream in the dark. Won't someone come and save me tonight!"
WON'T YOU BELIEVE
Like an adolescent voice-change artist, Brendan sings Won't You Believe, which is about finding freedom in Faith.  "I'm hangin by a short thread" – "there's a real bad feelin hangin' around, and its lookin' for me, but I can't flee the pain in my heart and a saint who walks the streets lookin for me".
THE ROAD
With a more mature voice, Brendan sings The Road, bending tones in a tune that testifies to Love. "If you love, He'll set you free". The bittersweet chorus is simple and beautiful.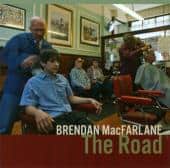 The album cover shows Brendan in a barber shop, which is a symbol for change, but also a place of trust and social interaction. I am perked about the instrumental and vocal quality of this first album. The songs are all very good but, for me, it's a bit too much of the same theme. I am hoping to hear Brendan's unique voice tackle some different styles in the future.
You can buy THE ROAD on Brendan's website or on iTunes.
rjmendera for the SKYKID.com