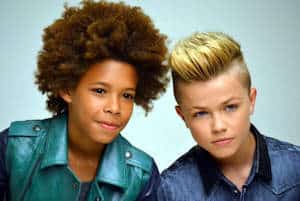 There is a certain appeal in listening to music in a foreign language (in this case French). One gets to imagine the lyrics and, if the music is catchy, this doesn't prevent the yearning to sing along. That's exactly the case with Max & Mango – 12 and 13-year-old French boys who have been in the spotlight ever since 2014 when they published their first hit-single Tout va bien (All is Well) which, at the time of writing, has more than 3 million views.
Tout va bien (All is Well)
It's unfortunate that the online information in English about Max & Mango is extremely scarce, but given the global nature of the internet and their obvious talent it doesn't come as a surprise that the boys have managed to acquire a significant fan base despite the language barrier. For the purpose of this article, I have researched French publications and the excellent French language blog Kids Vocal, which is a great resource for presentations of CD, DVD or VCD of young singers and pop groups.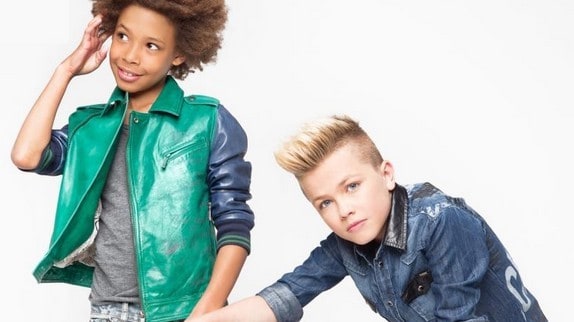 The music of the talented French duo (whose full names are Maximilian Jendrzezak and Mango Marlin) is energetic and vibrant, filled with positive vibes that appeal to audiences of all ages. Its catchy and upbeat, reminding one of the Belgium boy band ZaBoyZ (who also sang in French), and who also released an album in collaboration with Warner Music France.
As expected, the biggest fan base of these charismatic boys is comprised of young girls but, in all honestly, it takes a real horrible person not to be moved by their animated pop vibes (literally moved as in singing and dancing along).
Max & Mango – Faire le tour du monde
One could not help but notice how extremely well Max & Mango handle themselves in front of the camera. This, in addition to the professionalism of the people working with them (Warner Music France), is likely attributed to the extensive modeling experience they have acquired from participating in photoshoots for various fashion brands (such as John Galliano) and retail chains (Carrefour). The boys actually met on one of those photoshoots at the age of five and discovered that they shared a passion for music (Max took singing lessons at the school of music of Saint-Amand-les-Eaux while Mango Marlin is passionate about traditional Caribbean  percussions). They've remained best friends ever since.
Max & Mango – Capitaine Abandonné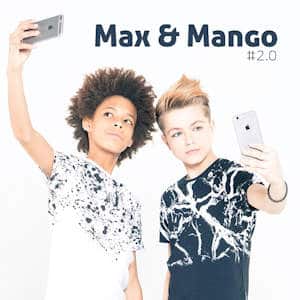 Max & Mango have already released two albums. The first is All is Well, released in July 2014 with Warner Music and featuring ten songs). The second album is Abandoned Capitan, which contains 12 songs under Three 8 Management and was released only a month ago (24-Jun-2016).
The boys seem to favor the summer months for the release of their albums and that makes sense, as the bouncing electro-pop that characterizes their music is refreshing and definitely contains summer hit material.