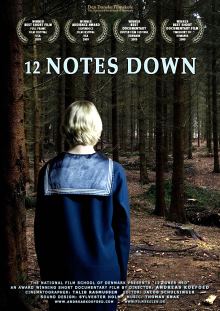 It's not the first time I've watched and reviewed a documentary movie. If the subject matter is relevant to the site, the readers appreciate such reviews. That's why, when I came upon the Danish short film 12 toner ned (12 Notes Down), I felt compelled to feature it on the site. Directed by Andreas Koefoed, the film focuses on the experiences of a young member of the Royal Chapel Choir as he realizes that his changing voice would require him to stop singing.
If you have followed any choir for a while, undoubtedly you have noted that their members change throughout the years and sometimes throughout the months. All choristers take pride in their vocal abilities. But they know that a day will come when their voices will lose their treble qualities. It's a change not everyone is prepared for.
Life is always changing. One must learn to embrace each change and adjust to it. In a society that encourages people not to be quitters, it can be tough for a young boy to decide to quit the choir that has been such an essential part of his life. He then has to reinvent himself and essentially come of age.
You may recall the 1962 movie Almost Angels, which addresses the same subject matter in a more dramatized manner. 12 Notes Down would be of interest to anyone with admiration and appreciation for the music of youth choirs. Young singers, themselves, would benefit from viewing the film as, in a way, it will help them prepare for this inevitable change in their lives.
12 Notes Down Trailer
http://youtu.be/dvFcBi6elug
The film is freely available on Vimeo.
You may also be interested in reading Bestpi's article entitled: My voice broke! I can't sing anymore. Will it ever come back?