Then…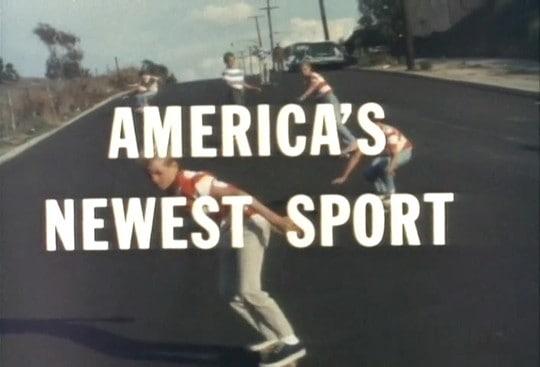 Before GoPro® cameras even existed, Bruce Brown crafted some terrific action-filled footage about skateboarding. That was back in 1962.
As an avid fan of skating (and vintage garb), I couldn't resist featuring a short film with America's Newest Sport enticing title. Of course, since the short was made for Hobbie (a skateboard manufacturing company) and its team, America's Newest Sport could be regarded as an infomercial, but that doesn't lessen its value – especially for anyone interested in the history of skateboarding. And, while all the information is available today on Wikipedia, seeing it on video is much more stimulating.
The 11-minute short film features audio commentary on several state-of-the-art maneuvers performed by a group of young boys. The commentary is both informative and funny, which provides for the film's fun factor. Slow-motion and various camera angles are not what you typically expect from a 60s film, but they are all present. As fun trivia, two of the kids starring in the film are Steve and Davey Hilton, of the Hilton Hotel chain, uncles to Paris Hilton.
But you better watch it yourself:
… And Now
Now that you have seen the beginning, it's time to introduce a talented skater of today who made a huge impression on me. His name is Tyler Kirshenbaum, and he is only 10-years-old. Despite his tender age, Tyler is an absolute ace and, while his skating profile still lists him as an amateur, there is not a tint of amateurism in his routine. Thanks to the wonders of modern technology – cameras and editing software (and of course a talented operator behind the camera) – the clip showcasing Taylor's skills are nothing short of amazing, and I think it's great to juxtapose it with the 1964 short film featured earlier in this article.
While TheSkyKid.com typically focuses on young talent in music and the arts, one should not forget that youth can express their talents in various ways. Skateboarding as a form of art is just one of many.
For more Skateboarding vibes, check out Skaterdater (1965) and the article introducing the Multi-talented Sky Brown