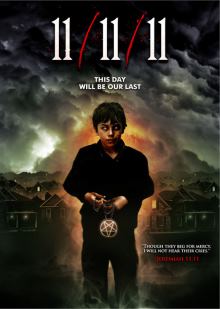 The Coming-of-Age genre doesn't feature many good horror films, but there are a few notable exceptions: the Swedish film Let the Right One In, Philip Ridley's The Reflecting Skin, Guillermo del Toro's The Devil's Backbone and most of the adaptations of Stephen King's novels (It, Carrie, Desperation).  Generally speaking,  finding a good Coming-of-Age horror is a difficult task.
That is probably the reason why, when I see a promising horror flick, I can't resist popping it in the DVD player. Keith Allan's 11/11/11, released in 2011, is about 11-year-old Nathan (Hayden Byerly) – who may or may not be the incarnation of evil on earth.  The movie's DVD cover grabbed my attention first and foremost.
The plot seemed somehow familiar, similar to that of The Omen.  But I thought that possibly I would witness some surprising twists that would make my time worthwhile. As a result, I spent an hour and a half watching a weak remake of The Omen filled with clichés and the average performances of the cast.
A lot of blood is shed and a suspenseful mood is attained at times, but the story is so predictable that I kept asking myself if I should re-watch one of the Omen movies instead. At least in those the central characters are better developed and, as a result, one ends up caring what will happen with little Damian (from the 2006 remake starring Seamus Davey-Fitzpatrick or Harvey Stephens in the 1976 original film).
Hayden Byerly's character in 11/11/11 felt pretty flat.  Yet I am more willing to blame that on the person who wrote the script rather than on the performance of the young actor. That lack of character development also diminishes the Coming-of-Age value of the film to a status of practically being non- existent.
While I wasn't bored, I did feel annoyed by the simplicity of the plot.  Yet, as the movie progressed, I kept up my hopes for a good ending that might turn the whole story around and save the film. Instead I was in for another disappointment!
At the end – 11/11/11 is just another time-waster and I would recommend that you check out an article titled My Coming-of-Age Horror Mini Marathon at All Things Horror and pick another horror flick — unless perhaps you have never seen The Omen or yearn for a deja-vu experience.
11/11/11 (2011) Trailer