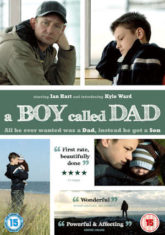 After a casual, fumbling encounter with classmate Leanne, 14 year-old Robbie becomes a father. But only in the biological sense: she doesn't want to know him or him to know the child.
Robbie longs to meet the baby, but does nothing to confront the situation.
Then, in a chance encounter, Robbie meets his own long-estranged father. They bond right away and the scene is set for a great story about adolescence and father/son relationships.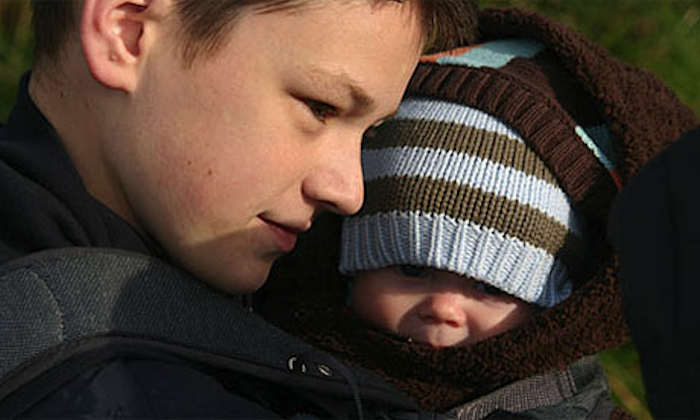 This is a film I've seen numerous times, as I use it in social and health education classes with young people around Robbie's age. I never tire of it, and teenagers love it. Although it has appeal to all ages, the story is pitched at older children – despite the ridiculous 15 classification. (Yes, it contains strong language, but nothing you wouldn't hear in a typical playground.)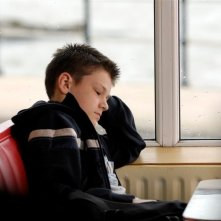 It's hilarious from the outset ("It's OK, it's a safe day." "What, Monday?") but this is a comi-tragedy in which Robbie learns that the father he has just begun to love again is a compulsive liar and loser. And when he finally plucks up courage to approach Leanne and meet his infant son, they are disturbed by her older hard-man boyfriend. With no one to turn to, Robbie is left angry and broken. Angry broken adolescents do some weird stuff, but what happens next leaves the audience sharply divided. Well, adult audiences at least.
Robbie snatches his son and runs for the hills.
Some viewers find this unbelievable or just plain silly. Others think it's a wasted opportunity: writer Julie Rutherford should have developed the story of the relationship between Robbie and his dad. Either way, it's the death of a potentially good film. But I've yet to meet a teenager who feels this way. Deep down, young people know how impulsive and short-sighted they can be in times of stress and panic. Although it's about half a lifetime ago for me, I still remember what it's like to be 14 too – and I find the plot perfectly plausible.
The Boy Called Dad Trailer
Whatever one's reaction, the quality of the acting here is undeniable. I don't know what became of Kyle Ward, but his début portrayal of Robbie is one of the most convincing and touching I've seen. Seasoned character actor Ian Hart (Harry Potter, Finding Neverland) is cast in type for once as the rough 'n' ready Scouse father, and his performance is superb. Even the bit parts are acquitted with a finesse that is remarkable for a film made on a £1M budget (barely shoestring by today's standards).
Those stumped by the abduction aspect must still surely admit that the ending is a work of genius. Without going into detail, this is a rare case of an unsentimental tear-jerker.
The music and songs in the soundtrack fit the theme well. Strong cinematography and editing provide the icing on the cake.
Although I don't dismiss the views of those who find it fundamentally flawed, I love this film and couldn't recommend it too highly.
http://www.imdb.com/title/tt1433514/combined

In short
A great story about adolescence and father/son relationships. Though some feel its flawed, the reviewer can't recommend this film more highly.