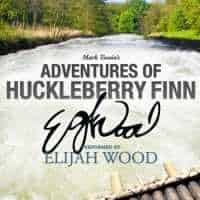 Everyone likes coming of age novels. And while there are many titles to choose from, one can never commit a mistake if the choice lies with a classical title such as Mark Twain's The Adventures of Huckleberry Finn. The famous novel of the American writer is known all over the world. For many kids, the characters of Tom Sawyer and Huckleberry Finn and their adventures become a source of inspiration — lighting up their imaginations and their desire to explore the world.
Like most of you, I must have read both The Adventures of Tom Sawyer and The Adventures of Huckleberry Finn more than once. I have seen films based on the books, but it was not until recently when I found out that Audible.com released a new audio-book: The Adventures of Huckleberry Finn, read by Elijah Wood, that I was filled with a desire to revisit both my childhood and the wonderful world created by Twain. Furthermore, I realized that through the creation of the character of Huckleberry Finn, with his penchant for mischief, sense of right and wrong (which like for every other teen does not necessarily coincide with the standards set by society) and the desire to take on the world — Mark Twain has accurately portrayed the coming of age process in which youthful innocence is challenged by the "increasingly technological and complex word of adulthood".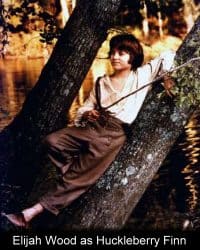 For the unlikely theskykid.com reader among you who doesn't know the story, The Adventures of Huckleberry Finn is a coming of age narrative told in the first person from the perspective of Huck Finn – a young boy in his adolescence who is both a protagonist and an observer. Elijah Wood did a wonderful job narrating the story, capturing Huck's spirit and presenting it to the listener in an original and believable manner thanks to his youthful voice and use of the Southern accent of the story protagonists. While one would think that it is not so important, after you spend some time listening, you will feel just as if you have traveled back in time and are sailing down the Mississippi River on that raft alongside Huck and Jim.  Some of you may remember Elijah Wood's portrayal of the character whose story he is now narrating, from the 1993 Disney film The Adventures of Huck Finn. Without a doubt, his experience in portraying Huck Finn in the film played its role, allowing him (and the listeners of the story) to identify with the compassionate thirteen-year-old boy.
To complete this audio book review, I would like to quote Mary B. O'Shea, who summarized the Huckleberry Finn character in her essay Crazy From the Heart – Southern Boys and Coming of Age, published in the book  Where the Boys Are – Cinemas of Masculinity and Youth :
"…when positioned as the central figure in the almost invariably nostalgic mode of the coming of age story, the Finn archetype carries the nostalgic weight of adolescence itself"
You can hear a sample of The Adventures of Huckleberry Finn at Audible.com