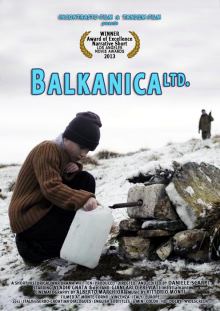 "He wants to know whose side I'm on, so he can kill me, but in order to save myself, how can I figure out whose side he's on?"
Have you ever been in a situation when one wrong action, one wrong decision could make the difference between life and death? In the short film, Balkanika LTD, that's exactly the situation one boy finds himself in. The quote, above, is taken from a synopsis of the film on IMDb.
A tension filled narrative and a surprising ending – those are just two of the features of the Daniele Scarpi 2013 short film. The movie tells a story of the encounter between a young Croatian boy and an adult member of the Serbian militia. In a land torn by war and ethnic cleansing, life has lost its value. No one is safe, regardless of gender, age or appearance. The boy finds himself at gunpoint and forced to play the cruel game of survival.
Balkanika LTD makes an eloquent usage of silence. The musical score is only used in the opening scene to set a mood, a technique that allows the viewer to focus more deeply and enhances the dramatic impact of the scenes.
"Dramatic" is a word not powerful enough to describe the scenes in which a young boy finds himself in a life or death situation. Giancarlo Previati and Vladik Gnata deliver credible performances in a film which largely relies on appearance for the development of its characters. It's impossible for one to remain indifferent to the story, as one continually wonders what will be the fate of the endangered child.
Alberto Marchiori, the cinematographer of Balkanika LTD, makes extensive use of reaction shots, which would not have been as effective if it were not for the expressive performance of the film's small cast combined with immaculate editing.
Watch the entire film below: