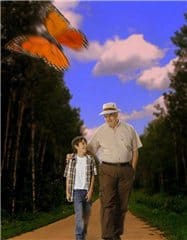 More then a few coming of age movies deal with the issues of grief and loss.  As children often lack the life experience of adults, the manner with which they face and react to loss and traumatic experiences can significantly differ from the ways society commonly associate with these  unfortunate events in one's life. Very often, for children, coming to terms with a loss in life becomes a  transformational journey that shapes their identities.
In the 2011 short film Billy's Angel, directed by Matt Metz, we meet Billy (J.R. Fondessy), a ten-year-old boy who has to overcome the feeling of loss after his granddad passes away.
Billy's Angels is a calm and reassuring "feel good" movie that features some of the most prominent features typically associated with coming of age experiences related to a loss: soft lighting, comforting background music, and heartfelt voice overs by the young protagonist of the film. This mise-en-scene is tastefully accented by symbols of life and death (a butterfly's journey through life) and male bonding (a grandfather or a father spending quality time with the youngest member of the family while fishing and sharing experiences and thoughts).
The young  J.R. Fondessy makes his acting debut in Billy's Angel and captures the  hearts of the audience with his honest and sincere performance.  And not only does J.R play the lead role  in the film, but he also performs its theme  song: I Can Only Imagine.
Billy's Angel is  a genuine and tender coming of age film that manages to fit more meaning into its twelve minutes than many expensive Hollywood blockbusters.The film became one of just 50 films from an international pool chosen to be shown at the Palm Bay Film Festival in 2011 .
You may watch the entire film at its IMBD page
Read more reviews about coming of age titles that deal with grief at TheSkyKid.com