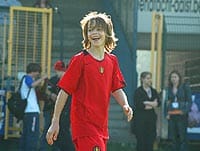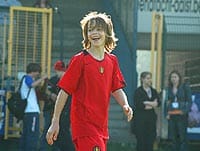 Yet another movie that made it in my all times favorites list – Buitenspel is a great coming of age story which I highly recommend to you. Just finished watching the movie – and I am still hooked on the DVD extras – all the interviews and scenes, and the music – the music is one of a kind. The main character of the movie is the 12 years old Gilles – who plays football and dreams to become invited to the "Red Devils" teams ( the Belgium nationals). His father supports him a lot and there is a strong bond between them. Buitenspel is one of these movies which focus on the the father- son relationship amongst other things and does that in such a unique manner which will make you want to watch it over and over again.
In general I am not found of watching soccer games ( but love playing it when I have an opportunity ) , and still the scenes in Buitenspel which focused on that game were go good that I felt all the excitement related to watching a final of your favorite team. If you like soccer you would fall in love with this movie. I wish it was available few years ago when I was trying to get my best friend from the USA ( who happen to be in the same age as Gilles) hooked into Soccer – as I would have succeeded in sure in that task .
Ilya Van Malderghem plays in the role of Gilles – and I have to say that he did an incredible job in the movie. The other actors – especially Filip Peeters who played the father did a great job as well. Getting sucked into the story -is a major indicator for me that the actors surpassed my own expectations . Gilles learns about about himself – how to deal with disaster, misfortunes – the importance in believing in himself . His path to coming of age is not an easy one – but one which every fan of the genre would truly appreciate seeing.
Finally I would like to mention the excellent ending, not a typical one indeed – but allow me to quote the pal who gave me that movie first place :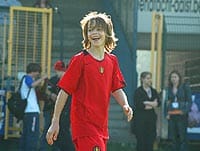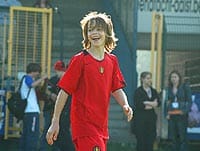 "…. it makes the story rather real this way

the sad ending

,

like…. down to earth story

…

more like stressing on the real life…. it would have been a bit of cliche if it was pink happy ending but it wasn't

and it's stronger story this way

"