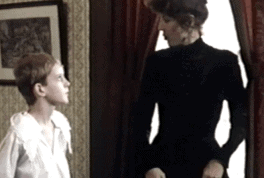 Child's Play or An American Short Story is a short film released in the United States in 1980. The main protagonist is Conrad (Paul Schoeman), a young boy whose parents have tragically died  and he is left in the care of his sadistic aunt. The boy is pale and fragile and his aunt takes advantage of that, keeping him indoors and away from other kids.  He is a lonely and bored boy whose only friend is a hen he keeps hidden in an old shed in the garden. The boy trades silver candles from the house for a mysterious creature, Sredni Vashtar, whom he worships as God, hoping that the creature will protect him.
"Sredni Vashtar went forth,
His thoughts were red thoughts and his teeth were white.
His enemies called for peace, but he brought them death.
Sredni Vashtar the Beautiful."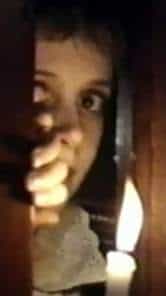 The atmosphere of the film can easily be compared with some of the earliest adaptations of the books of Stephen King while, at the same time, the story is told in a manner not much different than one would expect to find in the tales of  Hans Christian Anderson. Yet, the twenty eight minute long film is based on the short story  Sredni Vashtar by Saki (Hector Hugh Munro) and additional story material written by Amy Rose Blochc, who also directs the film.  There are a lot of Noir and Gothic arrangements in the story and, though the camera work is not always perfect, the viewer feels the dismay of the story. In the most powerful scene of the film, the boy and creature become one, uniting their souls with one goal – revenge!
The short story by Saki has inspired many films through the years.  A horror story itself, elements of demonism and idol worship are essential to the story. Another version directed by Andrew Birkin, which was released in the same year, won a BAFTA award for Best Short Film and was nominated for an Academy Award (Oscar). Having seen both short films, I must advise the reader that Child's Play is more haunting, while Sredni Vashtar follows the short story more closely.  The latter film also provides additional details, which help the viewer understand how Conrad learned about the ancient demons, thanks to his knowledge of Latin and interest in history.
In addition to the movies,  Sredni Vashtar has been adapted as a chamber opera three times.