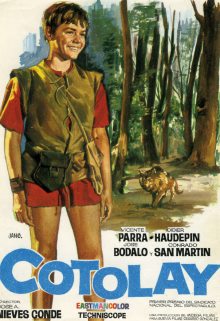 Cotolay, a 1966 movie by the Spanish film director and screenplay writer Jose Antonio Nieves Conde, meets the general characteristics of a Coming-of-Age story "emphasizing dialogue or internal monologue over action". Yet due to its linear, slow paced plot development and hefty film length, the viewing experience is sub par.
The narrative in Cotolay is loosely based on the 13th century Galician legend of a young boy who helped three pilgrims to establish the Convent of San Francisco near Santiago de Compostela in 1214. Unlike other Coming-of-Age movies whose action is set in medieval times (Tomas and the Falcon King, Den sidste viking or The Last Legion to name but a few), Cotolay departs from the fairy tale stylistic in favor of a more objective (historical) portrayal of the importance and altering power of faith (references are made to the teachings of Saint Francis of Assisi).
Cotolay was shot on location in one of the most picturesque regions of Spain (considering medieval architecture) and the costumes, sets and musical score contribute to the authentic visual style of production (Mise-en-scène). The French actor Didier Haudepin manages to pull off a good performance in the role of 12-year-old Cotolay (agile, intelligent, almost naughty, but with a huge heart). Yet those of you who have seen the 1964 French masterpiece Les amitiés particulières (This Special Friendship) may feel slightly disappointed that his acting is not on par with the consistent and  moving performance he previously delivered in that film. Of course the way the story is presented affects our perception of the actor's ability at times.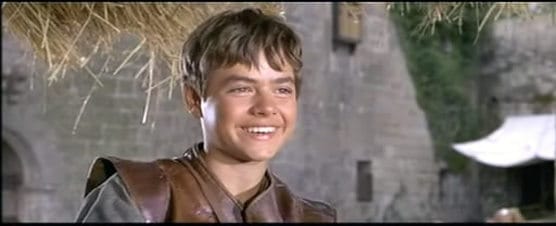 The Coming-of-Age element in Cotolay is embedded within the change that occurs in the young boy whose encounter with the pilgrims became a turning point in his life.
If we consider personal growth as one of the most important characteristics of the Coming-of-Age genre, Catolay's character becomes exemplary for the positive benefits of spiritual and moral guidance it provides in the development of youthful viewers.
While the story initially captured my interest, it did not manage to hold it as the film featured a minimal amount of suspense and action, if any at all. Taking into account that Cotolay is a drama with religious overtones, it should come as no surprise that the abstract subject of the film can be summarized in one word – faith. While some of the scenes and dialogue might be considered inspirational and filled with wisdom, if one is not fully captivated by the story, much of the effectiveness of its messages is replaced by a sense of boredom.
Promotional clip for a Spanish TV Broadcasting of Cotolay ( 1966)
P.S . Cotolay actually existed. His grave is located at the entrance of the convent, where an inscription explains the legend.
Film title: Cotolay
Also known as : El niño y el lobo
Release year: 1966
Director: José Antonio Nieves Conde
Cast: Didier Haudepin,José Bódalo ,Vicente Parra,Conrado San Martín,José Bastida,Ramón Centenero,Roberto Rey and others
IMDb Page