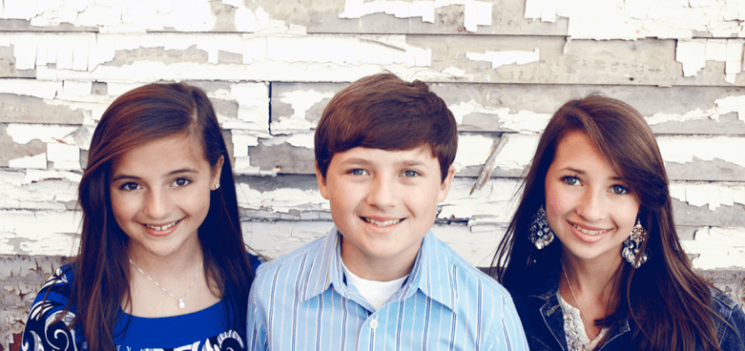 Erika                          Zachary                       Delaney
Daves Highway
A few months ago while chatting on Facebook, my pastor's wife shared a link with me, exclaiming that I just had to listen to this singing group she had found!  Being the music lover that I am, I immediately followed the link.  What I found totally amazed me and captured my undivided attention. I have heard hundreds, maybe thousands, of groups sing, but it will be a long time before I find another that will match the talent exhibited by Brandon, Mississippi's Daves Highway! This sibling group of youngsters, Delaney, Zachary, and Erika Daves blends their voices together as if they were born to, (Well In Fact They Were).  Brother and Sisters together they form Daves Highway which brings some if not
"the best harmony of any youngsters I have ever heard!"
Recently I was privledged to conduct an interview with the group.  Below is the complete, unedited content of this interview:
Daves Highway Interview Jan 7, 2010 When did you first realize that you could harmonize so beautifully together? (Erika) We've all been singing since we were little kids.  We started singing together in the van driving to school.  We just started singing the songs on the radio together and one thing led to another.  We won a bunch of talent contests and people seemed to like us, so we learned some songs together and here we are! Some young people lose their focus when fame comes as fast as it did in your case.  What do you feel helps keep you motivated, grounded, focused and yet remaining humble? (Delaney) It's nice to have fans following us on the internet (I'm not sure about the fame part of it…are we famous?).  We work a lot on our music instead of all of the other stuff like sports, cheerleading, etc.  We're grounded by our faith and our family.  We just want to do our best. How do your parents feel about you working as a group and how did they react to your sudden popularity on You-Tube? (Zachary) Our parents help us a lot.  They think it's neat to see us on the internet.  They're our biggest fans.  We never knew so many people would check us out on YouTube, Facebook, etc.  There are a lot of nice people following Daves Highway! How have your friends reacted to your success, and how has life changed since that first YouTube video? (Erika) It hasn't changed much.  Sometimes people we don't really know recognize us.  It's kind of fun meeting new people.  We get a lot more e-mail and stuff on Facebook.  Our friends are still the same and so are we.  We just keep doing what we do. I realize that you are stair-step in age, but who takes the lead position for your group? (Erika) It depends.  We each lead in different areas.  Zachary talks on stage the most.  I (Erika) talk more off the stage.  Delaney is the oldest, so she likes to be the leader, too.  Sometimes it depends on who's the closest to the microphone and what's the subject.  One time we had everything planned and Zachary was going to do the talking and the TV person asked Delaney all of the questions!  It was funny to me and Zachary, but Delaney did a great job.   So now, we all try to be ready for the questions. Aside from your parents, who are the people that have inspired you and encouraged you the most and  what famous musical artists has had the greatest influence on you? (All) Our Grandparents are our biggest fans, too.  They come to everything and have helped us along.  Mr. Mike Elledge in Southaven, MS is a great musical influence of ours.  He's the best musician we've ever known.  He taught us a lot about music.  Our former preacher, Steve Bennett has believed in us from the start.  Many people have helped us along. As for famous musicians, two of us (Delaney and Erika) are named after Eric Clapton (we're not sure about Zachary).  But, we all love the Martins, the Eagles, the Beatles, Chris Tomlin, Little Big Town, and Lady Antebellum.  We perform some of their songs. Zachary is a guitar man.  He likes Stevie Ray Vaughan, Eric Clapton, and Styx.   Zachary also loves lots of Christian musicians like Mark Scultz and Third Day. Erika is into Martina McBride, Carrie Underwood, Third Day, and Steven Curtis Chapman. Delaney loves Faith Hill, Little Big Town, the Martins and Martina McBride. Who does your arrangements and decides who is going to sing the lead and what harmony parts? (Delaney)  We do our own arranging and figure out our songs and find our parts.  Our mom helps us a lot and our dad helps sometimes, too.  We do all of this by ear and don't write down anything.  We feel it and hear it. In all families, there is always some rivalry.  Do you all get along as harmoniously in sibling life as you sing together? (Erika) We are laughing out loud!  We can get some good singing harmony, but the rest of the time, we are just like normal brothers and sisters. We have our share of differences, but we usually stick together in the end. What hobbies do you have outside of music and performing?  What are your favorite foods, school subjects? (Erika) I am the picky eater of the family.  I eat basic, kid food like pizza and chicken nuggets.  I love all animals, pets and puppies.  And, I love to play sports.  I'll play any sport any time!  Math is my favorite subject. Zachary eats a lot of everything.  He likes Chinese food a lot.  He loves video games, technical stuff and football.  He's a big-time New Orleans Saints fan.  He is good at English. (Delaney) I like Mexican food a lot, but will eat most anything.  I like to cook and love to create things like scrapbooks, sewing, etc.  I'm the organized one.  I love cheerleading, driving the car.  My favorite subject is Math. We all cook a lot with Mom and Dad and like to watch movies together. What motivated you to make your first CD and are you already planning a second one now that the first one was so successful?
(Delaney)  We've actually recorded 3 CD's, but "Just For You" is the first one we've offered to the public.  We were asked for a CD by so many fans, and things just fell into place for us.  Mr. Charlie Peacock, our friend and producer,  invited us to Nashville to visit and we ended up recording the CD with him.  It was a great experience.
Yes, we are planning another CD.  We're writing some more songs and are looking for other original songs to record.
Are there plans to make a secular cd, and will you continue to sing a mix genre?
(Zachary) We especially like Country, Christian and Classic Rock music.  We sing it all and like mixing it together.  All songs by Daves Highway are positive, fun, and hopefully are good for all ages.
What is the most favorite of all the songs you do together?
(Zachary) That's a hard question.  We like all of our songs and we each have different favorites.  Right now, What God's Gonna Do is at the top.  But, Free Ride is way up there for our live performance.  Boondocks is also a favorite.  And, Jesus Messiah is an awesome song too.!
What is the furthest you have traveled to perform and what single event was the most memorable for you?
(Delaney)  We've done TV shows in Tampa and Atlanta.  They were very cool.  We enjoyed playing at Star Baptist Church where Faith Hill grew up.  One of our favorite songs is the Star Spangled Banner.  We've sung it in lots of places, but FedEx Forum at the NBA Memphis Grizzlies basketball game is lots of fun.  One day, we hope to sing it for the NFL New Orleans Saints!
What are your goals and plans for the future as a group?  Does anyone have a solo singing career in mind for the future?
(Delaney)  We plan to make a big splash in the music world as Daves Highway!  We have a message to share with the world.  We want to sing songs of hope, love, and fun.
We're planning our next CD, but we're also focusing on our live performance (it's a lot more fun and much better than a recording on CD).
As for a solo….we can each sing a solo as part of Daves Highway most anytime.  Our strength is in our group and our family.  We plan to stick together.
Is there anything else you want to share with the audience?
(Zachary) Yes.  We want to thank every person who has ever visited our website www.DavesHighway.com for taking the time to check us out.  And, thanks to the folks who visited us on Facebook, Youtube and other sites too.  We'd love to hear from you.  We hope you'll become a fan, come see us, or leave a comment.  Thanks!
What's the best way for someone to contact Daves Highway?
(Erika) The best way is through  our website www.DavesHighway.com. Our Facebook fan page is good too.
I understand that Daves Highway does many live performances.  What do you like best about performing live?
We do lots of shows.  We're doing a few dates in January 2010 in Memphis, Little Rock and Jackson, MS. The dates are all on our website. We do love performing live!  It's so much fun to see all of the people.  and, we get to do the songs we want to do.  and, our show has a lot of energy and excitement.  And now , we have a CD and when people ask us "Do you have a CD?, Can we buy a CD?" we can say "yes" to both questions!  That is so cool for us!
This past holiday season, Daves Highway released their first CD to the public entitled "Just for You". I have my signed copy already framed and hanging on my collectors wall for safe keeping. One of the best songs on this cd is entitled "Boondocks" which offers Zachary and opportunity to shine as a soloist.
If you have not yet had the opportunity to visit their website, do so now.  You can also read more about them on http://rivenmaster.com.  I also encourage you to sign up to their fan site on Facebook for instant updates with the latest information for their concerts, television events,  and other appearances.
I will promise you that you can travel all over the world looking for musical talent, and it can be found on every corner of the glob.  However, Daves Highway isn't just musical talent. They are nothing less than Mississippi Music Magic!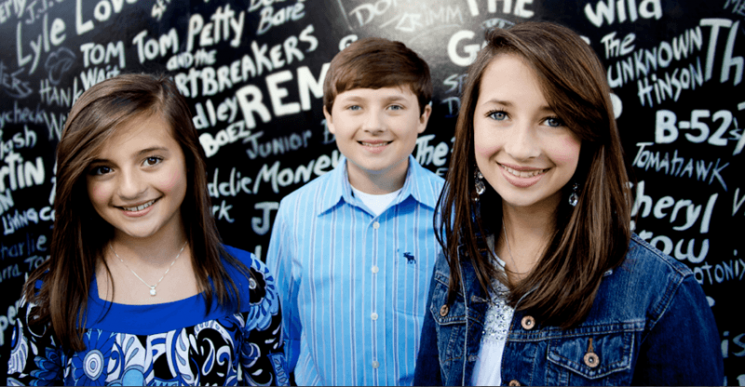 I  encourage you to visit their ON-LINE STORE where you can purchase their CD's and other Daves Highway items.

Daves Highway Audio Inroduction