For the eighth consecutive year, the  biggest and most prestigious international song competition, the Junior Eurovision Song Contest, is about to begin in less than 48 hours. Yesterday, all previous winners gave a press conference in the Minsk (Belarus) Arena where the competition is being held. And today, here at theskykid.com, we are proud of having the opportunity to share with our readers an exclusive interview with the first ever winner of the Junior Eurovision Song Contest – Dino Jelusic !

SK: You won the first edition of the Junior Eurovision Song Contest in Copenhagen, Denmark on November 15, 2003.  Could you talk about what winning that contest was like for you at such an early age?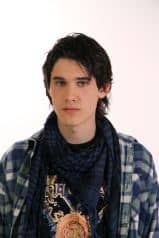 Dino: Well, It's was an amazing experience, and one of the best days of my life. I honestly didn't expect to win! I still remember walking over the bridge from the green room to the main stage when I won the Eurovision, and when they called my name, I was completely distraught, and still today, 7 years after victory, I have great memories of those days :)
SK: During the JESC, no parents were allowed to be there while the kids practiced.  Did your dad give you any last words of advice before that final preparation for your song?
Dino: The only thing he said was: '' Just be yourself and give your best, the rest isn't important'', and he didn't expect victory! Nobody expected victory. After winning the contest, all of us, me and my family were thrilled :)
SK: At a young age, you performed in many live shows.  I've read that you once did a concert in Denmark at which there were 100,000 in the audience.  What was that like?
Dino: OMG! Playing in front of 100.000 people, that was huge! The best experience I've EVER had! I still remember the girls in the audience screaming! Priceless!
SK: Many young men have a difficult transition at the time their voice changes.  What was your experience like and did you use a vocal coach or teacher to get you through that time?
Dino: It all happened almost three years ago, and I paused my singing for a few months. After that, I went to my vocal coach – after just a few hours we were surprised at how well my voice was sounding! I'm totally satisfied with the voice I have now and actually that's the voice I was looking for! I wouldn't change a thing in it!
SK: Do you prefer doing the live concerts versus recording?
Dino: Live concerts, definitely! All songs I recorded in studio are, let's say … 60% of what I can really do live. For live performances I give more power, more of rock'n'roll screams, and more of myself. But I like studio too :)
SK: What would you say has been your greatest performing experience in your music career thus far?
Dino: Definitely the above mentioned live show in Denmark, in 2004 (Ah Abe tour), where I performed in front of 100.000 people! If I ever do it again, I will call myself successful!

SK: After you first skyrocketed onto the music scene with that 2003 JESC win, and then the No. 1 album, you were very popular.  Since that time, we haven't heard a lot about you. Could you highlight what you've been up to in the years since 2003?  Were you always involved with music during that time?
Dino: I had many concerts all over Croatia, my country, and also I've had tours in Denmark, Australia and America. Then I paused my singing and focused on my school and music school (which I'm about to finish this year and then will continue my education at a university or music academy). In the meantime, I gave voice to different characters in movies and cartoons (Monster House, Sharkboy and Lava Girl, Toy Story 3, etc.). As I mentioned, my voice change stopped me for a while, but then I started singing again, working to make a more adult sound as I'm not the 11-year-old kid who won the JESC anymore. I've put together a great band of guys my age, and have started working on my new record. And, musically I'm moving in a direction that is my passion: Rock!
SK: Have you ever performed in a play or musical?
Dino: Yes, I did! In 2003 I performed in a Croatian/French musical in one of the greatest theaters in Croatia, and it was one of the greatest experiences in my life!
I was also performed in a musical in 2010, where I sang Andrew Lloyd Weber's Phantom of the Opera with my sister Lorena and it was arranged in Metal version similar to Nightwish.  That is probably the song where I can show almost everything that my voice can do. Lorena also showed her opera abilities with her voice. That was awesome!
http://youtu.be/8hehtpk_H9k
Dino Jelusic-Love Is All We Need from the album No. 1.
SK: An album was promptly released after that 2003 JESC win called No. 1.  Now you are making preparations for releasing a new one.  What would you say are the major differences between the music one would hear on that first album versus this new one that will soon come out?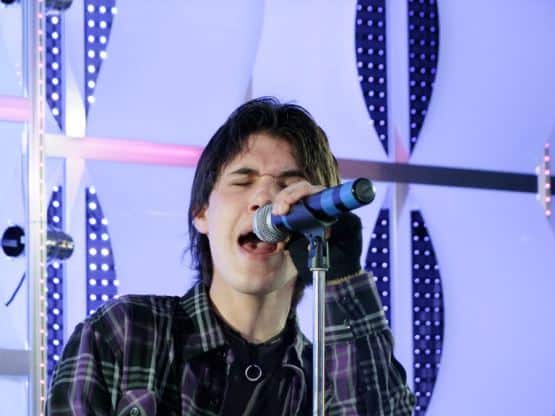 Dino: The main difference between this album and previous is, first of all, my voice! Second, this album is for an adult audience, not only for people my age, and the third, the sound is Rock.
SK: Having seen your performances during the Junior Eurovision Song Contest and later on various programs, I was astonished by your stage presence. You are a genuine front man. What's the best thing about performing live and are there any live performances (perhaps a tour) scheduled in the near future?
Dino: The best thing about performing live is expressing yourself through the music you play! I enjoy rocking the stage and performing as much as big tennis players enjoy winning the grand slam titles! It's a feeling no one can take away from you, the feeling I live for!
SK: I noted there is a fan club on your website. You obviously gained a lot of fans after winning the first edition of JESC. Have those early fans continued to follow you through the years?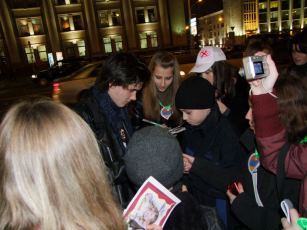 Dino: Well, I don't think anyone has a clue what I am doing right now. They probably think I am still the small kid in red suit performing pop music. So probably they'll be surprised when they see me with new songs, with a new voice, with a band, and with my new identity! An now I'm in Minsk, to show people the new me! So people can see what I am doing right now, and I'm sure they'll like it!

SK: Now you have your own band. Can you tell us more about it and about its members?
Dino: Yea! I have the greatest band on the planet! :)
My band consists of: Marin Gregov, a drummer who came from Pantera and the Rammstein Tribute Band, and also plays jazz music.
Dex, an awesome bass player, who had his own band until I invited him to play with me. He has great skills, and also is doing difficult covers on bass guitar from bands like RHCP and RATM!
Fran Sokic is keyboardist I saw just before recording my album. He was the keyboard player for the TOTO Tribute Band, and I was surprised when I saw how great he is!
And Ivan Zecic/Zec  is my guitarist! He is popular on YouTube, recreating the solos of Joe Satriani, Steve Vai and other famous guitar players! He also got 2nd award at GuitarMaster in Croatia, and we're all proud of it!
I'd say, that with this album, this band and this attitude, I hope I may change today's youth music. I don't want to be "like" someone, I always wanted to create my own style, which I think I did with this album!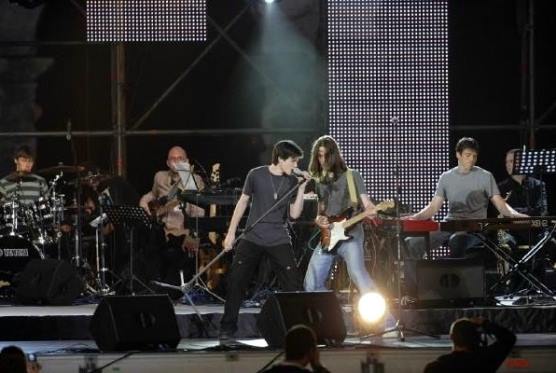 Dino Jelusic and his band
SK: Do you write your own music for the new band?
Dino: I do write music and lyrics, but for this album Swedish and Australian composers gave their time to write the greatest songs that have a chance of succeeding worldwide, so I have the  advantage of having mature composers :). But I think, if this album goes well, very soon you can expect an album with all the songs composed by myself!
SK: What's the story about how the song, My Prayer, came to be?  How did the audience respond to that song in your live shows?  Have you gotten any feedback from fans about the song?
Dino: The song tells a story about a young girl who died and that was the first song ever written for me. I dedicated that song to my grandma who passed away 10 years ago :(.
Lately, people have been asking me, is that song written for someone, and people like that song. I say that the song is dedicated to any of the people in the audience who have lost someone they loved. And that is the real truth of the song; it is written for all the people who lost someone they really cared about.
SK: Let's talk about the new album you are preparing to release.  What sort of music will it contain?
Dino: I've been preparing this album for long time; it's been 3 years since I've heard the first song on the album! This album is written by Swedish and Australian composers, and the main producers on this album are myself, my father and Robert Ahrling, who also mixed the album. My biggest influences for this album are Bon Jovi, Daughtry, Nickelback and Aerosmith. I wanted this album to sound exactly how I planned, that's the reason why I was in studio every time when the musicians were recording. The genre of my album is Modern Rock.  You can hear influences of Old School Rock'n'roll, Pop music, Metal music, Orchestral music, etc. The album is called Living My Own Life and it is supposed to come out in March 2011. I'm proud of this record and hope people will love my music and lyrics, and enjoy the variety of different music that my album brings. On the album you can hear everything from powerful Rock'n'roll to Ballads that people can cry to, and that's what I like about it :)
http://youtu.be/PSPauoG1Bh0
Preview of the latest album, 2010, Living My Own Life.
SK: Where was your new album recorded and what can you tell us about the gentlemen who you mentioned did the final mixing and mastering?
Dino Jelusic: My album was recorded in ''The Base'' studios in Melbourne, the famous studio were many famous Australian artists recorded! Also in the ''Fast Food'' studio in Croatia, and final Mixing and Mastering was done in the ''Flat Pig'' studio in Malmo by Robert Ahrling, the guitarist and producer of the metal band Origin Blood. He did great job, and he gave powerful sound to my album because he understands what I want, and we listen to similar music.
SK: Where does the inspiration for your songs come from?
Dino Jelusic: The true inspiration comes when I write songs from my life and from real things! I like to write about the real problems in the world and rebel songs!  On the other side, there are my mother and my father who are great in writing love songs, so we pack it all together, and get great songs, hahaha! :)
SK: Do you have a favorite among your songs?  If so, what makes it your favorite?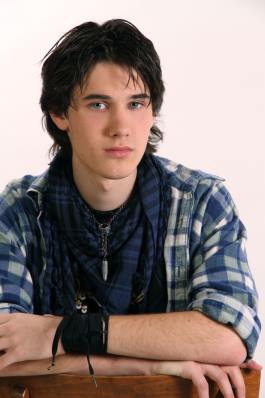 Dino Jelusic: Actually, I like all songs on the album. But if I had to name just one, my favorite would be the first one on the album named I'm Not Getting Over You. The song is about love and desire! It is a song where I see myself 100%. While we were making it, I wanted it to sound like ACDC of 21th century, and we did it!
SK: Who is your favorite musical performer and/or the one who has inspired you the most?
Dino Jelusic:  My biggest  influences in music:
Freddie Mercury – he is the best singer that ever walked on this earth!
David Coverdale – probably my favorite one, has huge charisma on stage and stage presence is awesome! And, of course the great and big voice!
Steve Perry – He's got real emotional voice and he uses it in rock music, which I like a lot!
Jorn Lande – the most powerful voice, and greatest Hard rock covering I have ever heard!
Jon Bon Jovi – Bon Jovi is my favorite band, and I like everything about Jon!
Prince – He is a genius! Styling, dance, music, Instrumentalist, singer… Everything!
Stevie Wonder – He shows his feelings in every song, and his voice is so unique and beautiful. I simply love him!
SK: What does your younger brother Bruno think of your popularity?
Dino Jelusic:  He's still too young to realize that people are recognizing me on the street, but he is my big support. He knows all my songs and probably will be my drummer in a few years! :)
SK: Is there anything you'd like to add that I haven't asked you?
Dino Jelusic: I hope people will give me support like they always did and will like my new music and enjoy listening to it as much as I enjoyed recording it.
We would like to thank Dino for taking the time to respond to our questions and wish him all the best with his new album and in his career.
Dino Jelusic Official Web Site