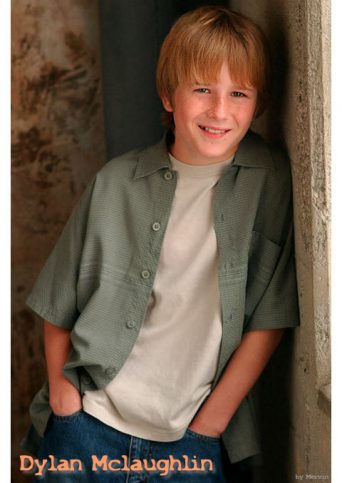 Dylan McLaughlin, born in La Mesa California, age sixteen, began his acting career in 2003. Dylan is a great young actor who can be funny or serious. Either way, he is a joy to watch. Dylan has a way about him,  when he is on screen, which lights up the atmosphere no matter what character he is playing. I like actors who can do this as  it keeps me wanting to see more.  Dylan got his inspiration to be an actor from his brother, who has ended his own acting career, but Dylan is going strong.  He does have an odd characteristic about him in that  he suffers from stage fright.  But for someone who suffers from stage fright, it sure doesn't show on screen!
Dylan has had a great acting career since he began in 2003 and has been in many TV shows and movies. My favorite was his appearance in You've Got a Friend. In this movie, he plays the role of Bobby, an orphan since his parents died. Having gone through a lot himself, he befriends someone named Jim Kliekan, who happens to be a soap box derby winner.  Together, they build a racer, while unknowingly helping each other overcome the losses they have both experienced. Prior to meeting Jim, Bobby meets a rival on his first day at school,  a boy named Tommy (Chase Ellison).  Tommy tries to make himself out to be a big shot and bully, which does not work with Bobby.  In the hall, Tommy purposely knocks Bobby's books out of his hands. Tommy starts to laugh, but not for long when Bobby rears back and POW — right in the jaw!  Of course, Bobby and Dylan end up competing against each other, but you will have to watch the movie yourself to see what happens.
In 2008, Dylan was nominated for Best Performance in a Feature Film, as well as Best Ferformance in a TV Movie, and as a Supporting Young Actor and Leading Young Actor by the "Young Artist Awards".
If you have not ever seen Dylan in action, you should look up some of his shows or movies. I know you will like him.
Dragnet"
Oliver Harmson
2003
The Artful Dodger
"The Division"
Billy Wright
2003
Radioactive Spider
"The Guardian"
Evan Atkins
2003
Let's Spend the Night Together
Seeing Other People
Jake
2004
Kicking & Screaming
Sam Weston
2005
Supercross
Young Trip
2005
"Bones"
Alex Morris
2006
The Boy in the Shroud
Georgia Rule
Sam
2007
You've Got a Friend
Bobby
2007
TV Movie
Alice Upside Down
Patrick
2007
"Journeyman"
Young Steven
2007
Keepers
"ER"
Marcus Faneca
2007
Coming Home
iCarly
Benji
2007-2009
This actor profile was written by Tommy from Stars2Come.com.