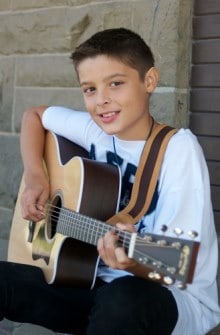 Cameron Molloy is a boy from Moncton, New Brunswick who turned 12 on 12-Mar-2013. What impresses me most about him is his impeccable pronunciation of lyrics and his clear fearless voice.
The pleasure he derives from singing and performing are soon apparent to listeners of his music. There is a joy in chirping out those choruses and playing his six-string acoustic, which you don't always hear in young singers.  But that is what it should be about!
It is too early to categorize Cam, but the comparisons will come eventually.  So let's say, potentially, he's an original Canadian talent somewhere between the hearty vocal power of a Bryan Adams and the lilting ballad tenderness of a Gordon Lightfoot.
Cam has presented two original songs so far: Did it Hurt and Spread Your Wings and Fly.  Both are remarkably mature, well structured and revealing. My favorite video is his A-Team cover.
Did it Hurt (Original) by Cameron Molloy
There is an exquisite pleasure audible in this performance; we can hear him really enjoying singing this tune.  And watch his good guitar skills!
Also astounding is the confident live cover of It Will Rain sung on 24-Feb-2013 at the Riverview Arts Center Benefit Concert accompanied by his teacher/mentor Marco Rocca.

It seems Cam has been progressing rapidly on his road to becoming a household name! This summer Cam will be in The Maritime Idols Final, and will take part in a songwriters workshop Road to Stanfest between July 1-4, 2013 at Sherbrooke Village, which ends with a concert on Thursday evening July 4th.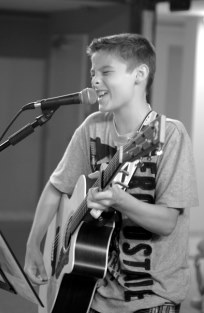 It's good to find a young singer who also takes part in team sports. Cam plays ice hockey and recently ended up in the hospital after being boarded so hard his collar bone was injured!
I'm looking forward to hearing the results of Cam's studio sessions, which will happen later this May. It's great gathering experience playing live (check his Handmade Mom and Baby Show video, with excerpts from a marathon two and one half hour set!! WOW!!)   But, of course, those great studio videos are hard to beat.
It will be interesting to hear Cam's first studio versions – assuming we get to hear them, that is!
Notable Quote:
"Dad, how come every song I write sounds like a Folk Song?"
Handmade Mom and Baby Show with Live Music by Cameron Molloy
You can find out more about Cameron Molloy (who calls his male fans Cameronites and his female fans Cameronettes) by visiting his homepage 
It seems to me that performing in front of an audience of 60,000 will not be much different than an audience of 600 since Cam's confidence in his own ability and style seem to be embedded.
Make sure you view his future creations, because I'm certain this is a rising talent who will offer up some gems and who will hopefully keep his head up on the ice to avoid those evil hipchecks!
My best wishes for success.
                                                                                                rjmendera for theskykid.com