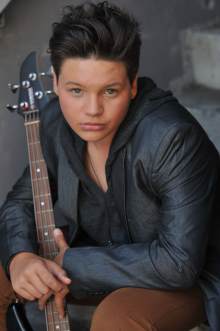 Not everything this 14-year-old youngster from Langley BC has sung is brilliant, because he is still a voice maturing. But there are moments in songs like Oh Holy Night or All by Myself when Cole's clarity and precise control convince me that he is an enormous vocal talent developing!
More than just that, Cole Armour has the heart to perform at many benefit and charity occasions such as concerts for Cancer Research, Children's Hospitals and Animal Welfare.  There is an aspect of humanitarian Messiah in the appeal surrounding Ron Armour's son. Many of the songs Cole has chosen are of the inspirational type, offering messages of hope or condolences as in the tender memorial ballad Blades of Grass and Pure White Stones.
Cole has recently released an original song called "U", which reveals him as an empathetic young man concerned about his social environment. Inspired by a teen-age suicide, it's a plea for people to be what they are, regardless of social pressure.
http://youtu.be/vGyQnFqwGPo
"U" – Written and performed by Cole Armour
Cole Armour is a Celine Dione devotee, as you can hear in a very fine cover, on Soundcloud, of the main Titanic song My Heart Will Go On. In this cover you can hear the range and tenderness of his voice, as well as the deep, thrumming power it carries.
Cole's first major claim to fame was winning the Pne Red Robinson Talent Showdown, the first child ever to do that (former winners include Michele Wright and Michael Buble). But even before that, he impressed at the 2009 Merrit Mountain Music Festival. He won gold in every category at the International Kiwanis Fraser Valley Music Festival and has sung the anthems of Canada and the United States at Canucks hockey games.
Cole apparently first sang at the Walnut Grove Secondary School Fashion Show, which he can now contrast with singing to an audience of millions on The Ellen DeGeneres TV Show.
Phenomenal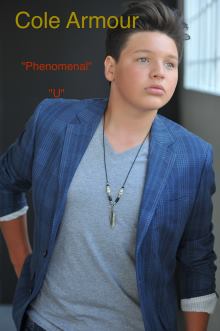 Cole is currently working on his first album, and you can already hear one single from it called Phenomenal on his site. It's a short humm-dinger of a tune about a teen relationship, which has climbed up onto the Billboard charts. If it's any indication of songs to come, the album will succeed. In researching press reviews about Cole, I found one fairly embarrassing article proclaiming Armour as the next Bieber. Seriously — there will be No Next Bieber!! Cole Armor has a much different voice and style, refined and flexible. I don't think he's on a mission to perform dance routines to the world, although he would like to be the world's best singer. In sync with the season, have a listen to Cole's Oh Holy Night, which is meticulously crafted, each note clear as a bell. It's his ability to sing this type of classic with aplomb, as well as belting out a pop tune, that makes him remarkable.
Armour has built his reputation mostly by performances in the Lower Mainland, but he also sang in Ottawa recently for the IEEE Convention. Other artists Cole likes include Lady Gaga, Pink, Michael Jackson, and ABBA. I asked Cole ten questions for TheSkyKid.com so that readers could get a better impression.
Cole Armour Exclusive Interview
For this interview, questions posed by theskykid.com will be represented by an SK.  Cole's replies will be shown preceded by a CA.
SK: What do your friends and classmates think of your singing. Do they support you?
CA: My friends are very supportive of my music and music career, but there have been times when other people haven't been supportive.
 SK: Could you picture yourself performing "Bieber" style with dance choreography?
CA: I like what Justin Bibber does, but it's not me. I do perform my music with choreography, but with my own style.
Cole Armour
SK: Whats the worst or funniest experience you've had while performing?
CA: When I first started singing, I was at a theatre and the sound went down. So I had to ad lib without a mic. My mom said it was so funny because I had to speak to my audience like it was a Broadway play.  I just kind of made things up as I went along until they got the sound working again.
SK: Do you play any sports or go to a fitness studio?
CA: I played hockey for a couple of years, but I found I really enjoy tennis more, and I go to the gym with my mom.
SK: You're Canadian, but what ethnic background is your family?
CA: My family origin is quite a mix. My mom is Norwegian and Irish, my Dad is English and Scottish.
SK: Do you have a soulmate, or who do you talk to when times are tough?
CA: I have a few close friends who have been my friends well before my career in music started.  They know me well and they are the friends I confide in.  They have been there from the beginning.

SK:  Is Phenomenal an original song, or was it written/co-written for you?
CA: Phenomenal is a song which was written by four other writers. It was submitted to me through my producer along with many other songs.  I chose Phenomenal because it has a great feel and the lyrics can have different meanings.
SK: What are some of your favorite foods?
CA: I love Sushi!!
SK: If ever a singing career were to fail, what occupation would you choose?
CA: I don't believe in the word "fail", but my other interest is Textiles and Design.
SK: What do you want from Santa for Christmas?
CA: What I would like from Santa would be…. to have everyone enjoy a great Christmas and a safe and Happy New Year!!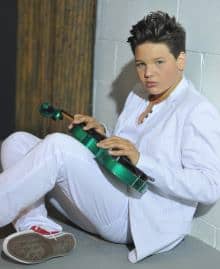 Cole Armour already has an impressive tour of concerts lined up, including the East 542 Music Festival in Deming, Washington (with Lonestar, Dr. Hook+Sawyer Brown); Rocking River in Mission, BC and the Port Moody Festival of the Arts. Cole is a student at the Langley Fine Arts School. We wish him much success and happiness in his musical ventures and will be watching anxiously for new releases
              My thanks to Ron Armour for the shared material.