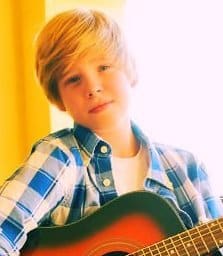 Last Sunday, I heard Colton Jacobson sing Sand Castle on the Sky Kid Radio and, like many people, was impressed with this youth's high clear voice and precise notes. It's a song about disappointed love, childish dreams, change and disillusionment that has had almost two million views on YouTube.
It has touching, simple lyrics and a wonderfully soft ballad tune which goes down like honey, while being sung by a handsome blond boy whose style in front of the mic is that of a craftsman!
Colton Jacobson – Sand Castle
So who is this 15-year-old singer (until December, I believe) from Celina, Texas?
If you are interested in a biography (and not a review), you can learn a lot about Colton at Coltonjacobson.com.  I was more interested in what else Colton had to offer musically and found some very fine covers. Actually, I found only covers, except for Sand Castle and possibly the song Last Forever, which very quickly raised a question in my mind:  were these really original songs written or co-written by young Jacobson?
So off I went to Twitter to ask Colton himself.  After a brief exchange which directed me to his info site, I was disappointed to find my query left unanswered.  So I'm left wondering about the originality of the song, which is not titled as either a cover nor an original.
Be that as it may, after browsing through Colton's repertoire, I discovered that he hadn't always been the polished voice I was hearing. Like many young singers, he took voice lessons, in his case at the Frisco School of Music in Texas. If you want to compare Colton before/after lessons, there are videos on YouTube which prove how valuable vocal training can be.
Colton Jacobson – It Will Rain
The results were astonishing on covers like It Will Rain (Bruno Mars) in which this young Texas talent shows off his high treble — hitting notes precisely. Over 1.2 million people listened. The notes were higher yet in places on Adele's Someone Like You, which Colton covers playing keybord in a foyer. But there are places where this is strenuous for him, and we hear that. It's not a song that suits him. What impresses me here, though, is his confident keyboard work.
Better managed is Firework (Katy Perry), where we see Colton in front of a mic reaching the notes and nicely projecting the words. Inevitably, there had to be a limit to this tenor voice and I found it in his cover of Halo (Beyonce). It's not easy for a woman to sing this, much less a teen-age boy. So there are passages with notes that Colton simply cannot comfortably reach without straining a bit.
Colton Jacobson – Firework Cover
There is also a live performing side to Colton Jacobson, which hopefully we will see much more of in the coming months. He is scheduled to sing at The Curtain Club in Dallas on August 4th and at Six Flags Over Texas in Arlington on September 8th.
I found only one "live" video called Last Forever. That's acoustically disappointing but, even so, a certain showman style is evident.  Under the category "not so serious" is Colton's fun cover of Tonight Tonight (Hot Challe Rae).
Colton has already sung in some notable sites, including The House of Blues, The Palladium Ballroom and The Hard Rock Cafe!! Just recently, he performed at the Frisco Freedom Festival.
In introducing this young American singer, it must be noted that he has just started on a path he apparently chose as a fifth grader. The voice is pure and controlled at its best and I will continue to be curious about what it produces in the future.
Perhaps someone can enlighten us about the originality of the songs I have questioned.  Best wishes to Colton on the road to success.