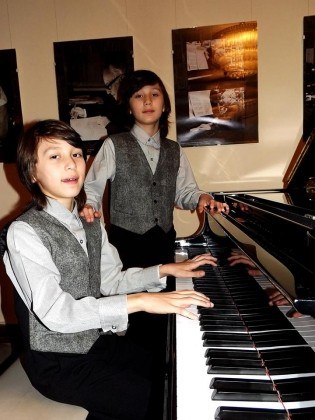 More often than not TheSkyKid.com introduces young talent who come from English speaking countries. Yet this does not mean that we don't keep our eyes open for outstanding performers internationally.
That is how we happened upon two young musical prodigies from Bulgaria: Hasan Ignatov and his identical twin brother Ibrahim.
The young pianists come from a musical family. Their father, Denis Ignatov, plays gadulka (a traditional Bulgarian bow stringed instrument) in a folklore Shumen ensemble, while their older sisters sing traditional folklore songs. Yet Denis, who supports his sons in all of their musical endeavors, states that the musical pedagogue of the school they attend, Mariela Marynova, has played a crucial role in both the discovery and development of the twins' talent.  "She is the person who opened a window to the world of classical music" for the boys, he states.
The boys started to play the piano in 2011 when they enrolled in the high school Sava Dobroplodni in the city of Shumen, Bulgaria. In just three years, they have become true professionals. Their favorite composers are: Franz Liszt, Beethoven, Mozart and Pancho Vladigerov.
Hasan and Ibrahim admit an affinity towards the hardest compositions of their favorite composers. They find modern music somewhat meaningless, reasoning that often in such music there is just one harmony and the music does not evolve. The complexity and beauty of classical music has won them over and they hope to do their part in bestowing its magic to their audiences.
Hassan Ignatov – Musical moment – Rachmaninoff
The boys appear rather shy during interviews, but on stage they play with such skill and passion that it casts a spell on their audiences. While their peers play on the computer or are playing sports outside, the twins practice on the piano 3-4 hours a day — true to the maxim of Albert Einstein "Genius is 1% talent and 99% percent hard work".
The brothers have won a variety of competitions in their home country, but they owe a great deal of their popularity to their appearance on the bTV program Slavi's Show (one of the most popular talk shows in Bulgaria).
In just a few weeks, the boys will take part in the Junior Eurovision Song Contest – Malta 2014. There they will accompany Krisia Todorova who will sing her song Planet of the Children. Audiences from all the European countries participating in the contest will be able to vote for their performance on the 15th of November when the contest will be broadcast live from Malta.
Krisia, Hasan and Ibrahim – Planet Of The Children
You can watch more musical performances by Hasan and Ibrahim on their official YouTube channel.