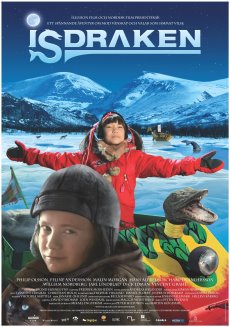 Scandinavian films may feel weird at times, but one can't deny this region of the world releases a great variety of Coming-of-Age themed flicks. That is probably why anyone interested in the genre would have seen at least a dozen films shot in Sweden, Norway or Denmark.
The latest Scandinavian film on my watch list is the 2012 Swedish film Isdraken (The Ice Dragon). In it, eleven-year-old Mik has to face turbulent changes in his life when his father, a drummer in a rock band (with a name I hesitate to put down in words for this review), is sent to a clinic for treatment because of problems with alcohol and his older brother is arrested.
Mik is shipped from Stockholm to the snow-bound wilderness of Sweden to stay with his aunt. He finds the small village lifestyle there to be in sharp contrast with that which he's known in the city, but his new home presents an opportunity for many new challenges and experiences for Mik. He manages to make friends, get in trouble, and even fall in love.  But, just when he starts to feel at home, social services comes to take him away to a foster home…
With such a storyline, one might expect the film would be a drama charged with emotions. But, instead, Isdraken fits more into the youth adventure genre. Unlike most Swedish films, the action is fast paced, which gives it an appeal for young audiences. The film can be viewed as an adventure, but for those who enjoy looking for metaphors and hidden meanings, they are there as well.  The Swedish director, Martin Högdahl, has managed to make his film equally appealing to both viewers seeking pure entertainment and those willing to invest some thought into the story and its messages.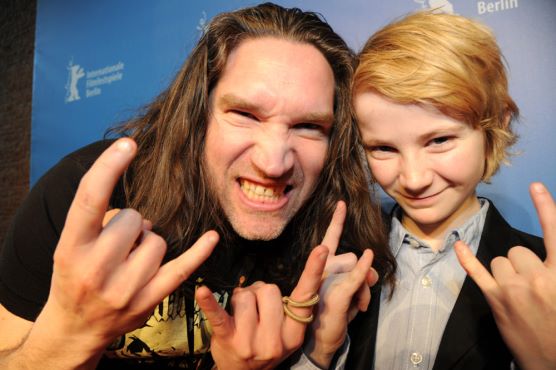 Isdraken features a highly effective score that made a huge impression on me. Fiery metal riffs and melodic rock ballads greatly enhance the film's atmosphere. The viewer also hears hip-hop beats as well. The score is used mainly as a characterization device – certain songs are associated with the appearance of a character or an event. I can guarantee that you will be drumming away while listening to the wild song playing when the final credits roll…
The narrative calls to mind the 2003 film starring Haley Joel Osemont Second Hand Lions and the 2010 film Hesher. But it is by far more suitable for family viewing than Hesher and much more upbeat than Second Hand Lions.
None of the characters is particularly memorable, however the performance of Philip Olsson (for whom the role of Mik in Isdraken is a debut) does impress as he manages to convey a lot of personality into his character.
As with most Swedish films, viewers will be treated to bright colors, and widescreen photography that emphasizes the nature of the country (snow, ice, forests …and still more snow).
Surprisingly, I ended up satisfied, though my expectations for an emotional drama were not met.  I don't hesitate to recommend the film – especially if you intend to show it to or see it with youngsters.
Isdraken – Trailer 2012
Film Title: Isdraken
Also known as: The Ice Dragon , Der Eisdrache
Release year: 2012 – Stockholm, Stockholms län, Sweden
Director: Martin Högdahl
Cast: Philip Olsson , Hampus Andersson-Grill, Vincent Grahl, Dick Idman, Jarl Lindblad and others
IMDB