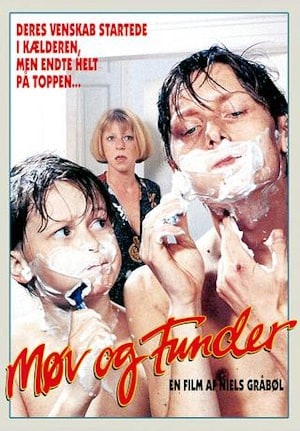 Scandinavian films almost always avoid shying away from portraying youthful experiences using false pretenses, which enhances their credibility — especially when compared with most US productions (of course each rule has its exceptions).
Møv og Funder (Its English title, The Hideaway is so rarely used that I decided to stick with the original Danish one for this review) is a 1991 Coming-of-Age film from Denmark directed by Niels Gråbøl.
Starring Kasper Andersen in the lead role of the 12-year-old (going on 13) Møv, the movie tells the story of the unlikely friendship between a boy and an older juvenile delinquent. Møv (short for Martin) spends quite a lot of time by himself. His parents are separated and both seem to devote more time to their new-found partners than to their son.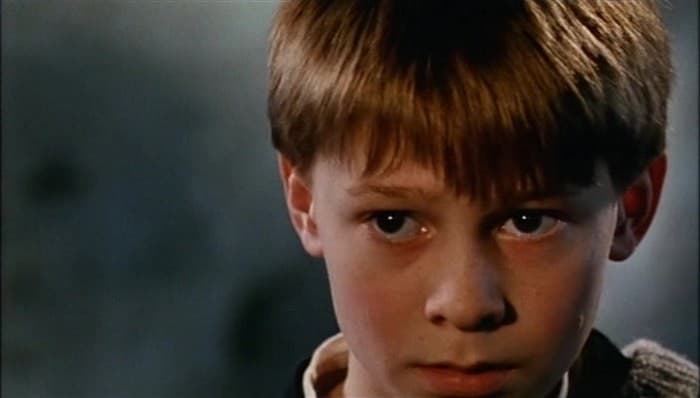 The opening scene is essential to one's understanding of Møv's personality: posters from the movie Terminator and of Native Americans hang on the walls of his room, suggesting an imaginative and adventurous kid who loves reading (and movies).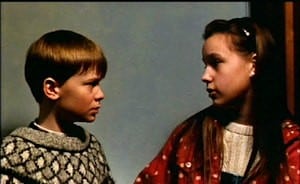 Møv has a crush on Rikke (Kristine Horn), a girl from his building but, other than observing her (with a risk to his life at times), he is not sure how to proceed.  When the kids meet, Møv blushes and becomes boastful and clumsy as most boys do around someone they like.
One day Møv witnesses a street fight that ends quite brutally.  Later that day, the boy encounters one of the participants of the fight, Funder (Allan Winther), a 22-year-old street bum who has been wounded and is hiding from the police in the basement of the apartment block where the boy lives.
Møv's friendly demeanor and naivety takes over and, when Funder asks the boy for help, he decides to offer him the family box room as a refuge. Impressed by Funder's toughness, and his life philosophy (based on statements such as "You've got to take it to the limit"), Møv develops something akin to hero-worship towards his new-found friend.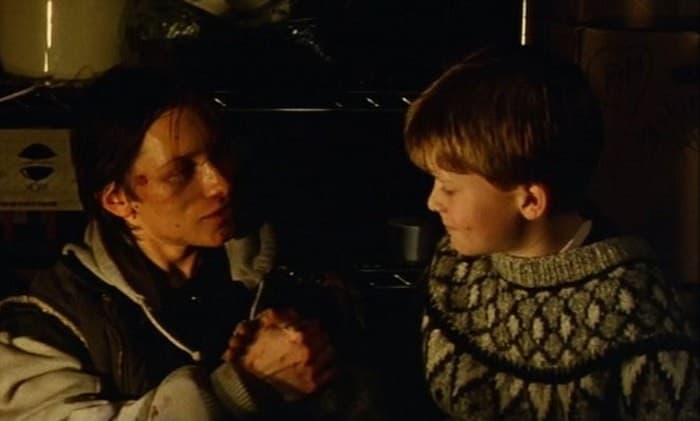 The situation becomes complicated when it becomes clear that Funder will require medical attention, in spite of the danger that will place him in, of being caught by the police.
Kasper Andersen and Allan Winther work great as an acting tandem, which enabled the film's director to achieve a delightful juxtaposition between the innocence of the young Møv and the rebellious manner of Funder. The many close up camera shots, combined with a skillful use of lighting, are used frequently and allow one to sense the emotions of the film's protagonists, thus enhancing their characters.
Møv og Funder does not have a long screen time (just 70 minutes), but its simple narrative is filled with nuances that make it intriguing and action that makes it intense and a joy to watch. The film manages to accurately portray the first encounter of a young boy with the adult world, with all of its perils and wonders. This provides for the Coming-of-Age nuance of the narrative, making it more than being just a children's film.
The song played at the film's end makes for a wonderful finale. Its lyrics focus on growing-up and learning from one's experiences as well as the importance of friendship:
"You're nobody until you fall in love; you're nobody until you care about someone. You can be a king and own all the gold in the world, but it will not bring you happiness in old age."