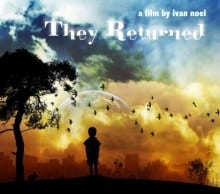 Compelling stories, outstanding performances, striking visual imagery, and Ivan's own music to seduce the viewer, these are the characteristics of an Ivan Noel film. 
"I want a coming-of-age tale that is full of heartbreak, beauty, life, purity, and raw emotion. Well, they don't get much more raw than in Iván Noel's films." – 7 capital films blog 
Those films include: En Tu Ausencia, Brecha, Primaria, Vuelve, Limbo and now, Ivan's sixth film, They Returned.
They Returned is a beautifully touching, yet unnerving story about the unexplained disappearance of three children, two boys and one girl, and their reappearance three days later in a semi-autistic state. Not even the children themselves are able to help anyone understand what happened.  No clues or signs are left, other than the fact that, as we discover later, two of them were mutilated.
As the police carry out their investigation, and the town slowly sinks into a deep state of suspicion, a small community of children (classroom colleagues of the missing three) run a parallel seach of their own.
Only one person is a potential suspect:  the children's own classroom teacher recently arrived from another town.  He does not help his case when he attempts to make the school psychologist understand that the children were in fact murdered…
Ivan commented:  "Limbo (the last film, just completed) was a more 'commercial' effort mixing the popular theme of vampires, with dark comedy and my usual polemic approach.  The film will be available to all of you in a few months, no sooner does it finish its film festival run, which has just started.  This time, the new script I have – They Returned – is back to my very own personal style.  It will be a film somewhere between Vuelve, the Sixth Sense and recent films by Lars von Trier.  All the details, photos, and even part of the script are on the Indiegogo page.  This is guaranteed pure 'Ivan Noel' material!"
 They Returned Video Presentation
Ivan has started an Indiegogo campaign to raise funds for the film.  As Ivan has stated:  "I am not able to put my cinematic abilities into practice, were it not for my fans' support."
If you would like more information about They Returned, including the first two pages of the script, please visit Ivan's Indiegogo project .  While you are there, please consider supporting Ivan.  Any donation large or small would be most welcomed and very much appreciated.
 Ivan Noel's website , Interview with Ivan Noel at TheSkyKid.com