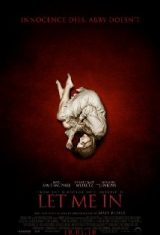 I often visit the foreign film rack at my local video rental store because some true treasures can often be found there. About a year or so ago I came across a film that had been released in 2008 directed by Swedish Director Tomas Alfredson, entitled Let The Right One In. The movie was produced from the novel and screenplay written by John Ajvide Lindqvist, and what I witnessed was a true cinematic experience which was not soon forgotten.
While horror films only take up a small portion of my ever expanding DVD collection, this was one that I considered to be a true cinematic experience.  In 2009, when New Moon released the first of its series, I could not help but think of this Swedish film. While the film and story were totally different, they had one common thread with retrospect to falling in love and allowing the wrong person, or should I say "being", into your life.
This past weekend, the American remake of the original Swedish film was released and I could not resist going to see it, wondering if they had done it justice.  Much to my great surprise I really enjoyed the movie from its opening scenes to the conclusion of the movie.
The first thing I noticed was that Director Matt Reeves knew exactly what he was doing by staying with the original screenplay. By using flash backs and additional sequences, while short, he brought much more meaning to the story that had been so subtle in the original movie that they were missed in my viewing.  The camera work was well done, using a variety of close-ups and creative lighting, thereby creating a masterpiece without having to rely on a lot of special effect work afterwards.  The musical score was also well done. It didn't detract from the film but rather enhanced the especially intense scenes which, even though I knew the story well, brought more excitement to the viewing.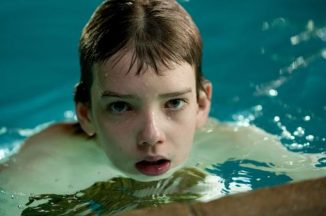 To be honest, what made me go to the cinema rather than wait for the DVD was the fact that young Kodi Smit-McPhee ,who I best remembered for his recent acting roles in The Road (2009) and Romulus, My Father (2007), was playing the lead character (Owen). Having seen both of those films, I knew this young Australian was an amazing little actor and I could not wait to see how much he had grown in his abilities.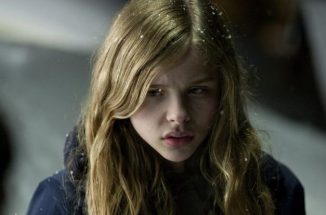 Of course Chloe Moretz (Abby), whom I had just seen in Diary of a Wimpy Kid and Kick-Ass was also the clincher to my decision to go. These two youngsters possessed the perfect magnetism that was necessary to bring this story to fulfillment on the screen and drew me in like a moth to the flame with their flawless acting abilities.
Because this film was just released, I do not want to give away any of the added sequences or variations to the original film.  But what I will say is that this film is a must see for those of you who enjoy vampire movies. Not only does it contain the suspense you enjoy, it also will haunt your mind and make you think twice about looking in the back seat of your dimly lit car before you sit behind the steering wheel.
Take my word for it. Let Me In is captivating, well directed, scripted, and casted and will definitely be taking its place on my DVD shelf in a few months.  That being said should be enough, because like I said, I only choose a very few select films in that category for my own collection. Let Me In is worthy of the placement.
_______________________________________________________________________________
Rivenmaster's Place has become the global home to young unsigned treble singers, aspiring young actors and talented youth.  Each week a youngster from various parts of the world is featured and sometimes introduced to the world for the first time!  You will enjoy outstanding articles that are derived from speaking directly to the parent of the child and also personal interviews with the young celebrity. Many young people have been given even greater opportunity to expand their careers due to the dedication and effort of this site!  For more information visit: Rivenmaster's Place. Or write to: writemeone@hotmail.com