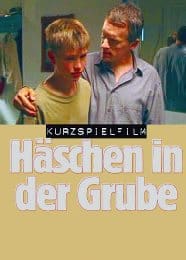 "Little rabbit sat in his burrow and was asleep, Sat and slept, "Poor little rabbit, are you ill, So you can't hop about any more? Rabbit hop! Rabbit hop! Rabbit hop!
Little rabbit, beware of the dog, beware! It has a very sharp tooth To catch little rabbit with. Little rabbit, run! Little rabbit, run! Little rabbit, run!"
Little Rabbit In A Hole  (Haschen in der Grube) is a German lullaby and, from it's lyrics (above), I realized how much symbolism lies in Director Hanna Doose's decision to chose the same title for her 2004 short film.  The film's disturbing narrative focuses on life in a suburban German family which, at first glance, appears quite typical.  There's the hardworking parents with little time for their off-spring. Twelve-year-old Marcus and his annoying little sister, as children will do, both strive for the attention of their parents …
One night, Marcus makes a terrible discovery that shatters his innocence and forever changes his relationship with his father. Little Rabbit In A Hole is essentially a drama focusing on the interpersonal relationships in a family. The director achieves a feeling of  sensuality and intimacy in the picture, while dealing with hard to address issues: i.e. the father-son relationship and the understanding of and mis-use of trust. The fact that the story is told through the perspective of the young boy greatly enhances the emotional impact of the film on its viewers. While watching the emotive acting by Christopher Reinhardt, one could not help but feel as equally confused, angry and powerless as Marcus.  You could read all those emotions on Marcus's face due to Christopher's superb acting.
It would be nearly impossible to discuss the film further without spoiling its story.  So, instead,  I suggest that you watch it in its entirety (below). Be advised that the subject matter is not suitable for audiences younger than thirteen years of age.