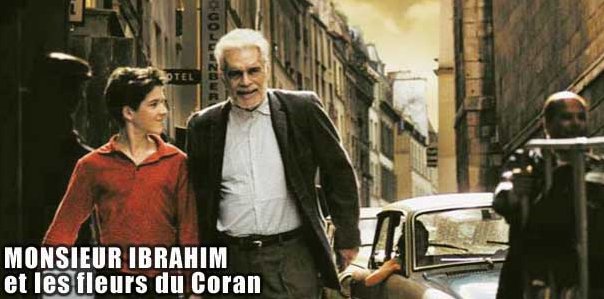 I have wanted to see this movie ever since its posters appeared on the city's Metro stations. That was some time ago – 2 or 3 years and I just managed to see it tonight, though not in the cinema but on my PC.
The first scenes really got me in the movie's mood as we see how the Mouses (a 16-year-old boy played by Pierre Boulanger) observes the prostitutes who happen to work just across the street. Such scenes may appall some viewers, but that in fact is a rather typical setting in almost every big city in Europe and elsewhere.
Mouses ( or Momo ) practices his pick-up lines in front of the mirror. Things like "It's a hot one." to "How much?" and he decides to try his luck with the girls using the money he saved since he was 8 or 9. Around that time, we are introduced to the second lead character of the movie: Monsieur Ibrahim, an old Muslim shopkeeper, known as the "Arab" as his store, stays open the hours when others are closed.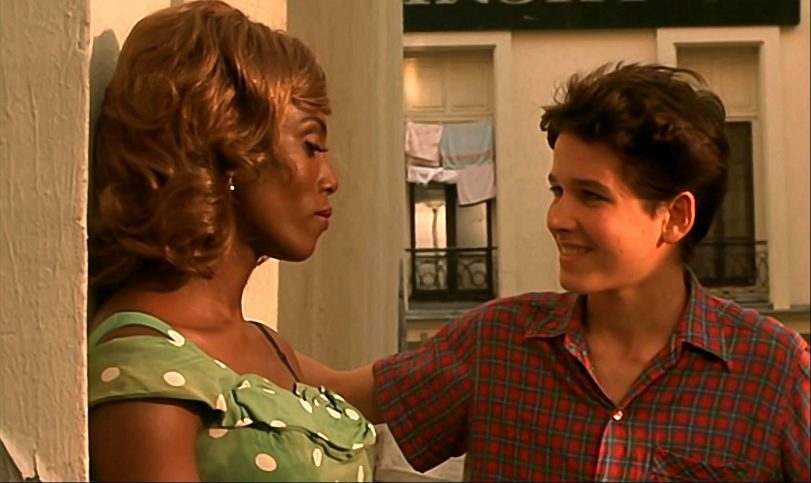 (Where I live, there are similar stores only here people run them from China) At first, it doesn't appear that Momo and the old shopkeeper have anything in common. They have different religions. Momo is Jewish, and Monsieur Ibrahim is Muslim, and they have different backgrounds, one being Spanish and the other an Arab. And to make matters worse, Momo is even shoplifting from the store run by Monsieur Ibrahim. (Who, by the way, is played by the well known Omar Sherif ) .
Monsieur Ibrahim knows that Momo steals from him, but he cares too much for the boy, which becomes obvious when he says, "Better you should steal here than somewhere you could get into real trouble." Later on, he becomes a role model of Momo, providing him with guidance and handy advice. The boy needs his mentoring as guidance and understanding do not exist at home. At least, that is my impression after seeing the way his father talks with him.
My first impressions of the Mouse's father weren`t very positive – although he appears to be a hard-working man, he was rather indifferent to his son, who cleaned the house and even cooked for him after his mother left them.
In quite a few reviews of this movie, I found online. Momo is compared with Antoine Doinel, the character of The 400 Blows – while indeed there are some similarities, both boys seek understanding and guidance. I did not find this such a strong connection between their characters.
The acting by the two leads is excellent as the movie relies largely on them to carry the film for the most part. I really liked the young Pierre Boulanger's performance in the role of Momo; he seems perfectly fit for the role of the young teenager who explores and learns about surviving in the adult world he is thrust into. While I am not that familiar with the previous roles of Omar Sharif, he was outstanding as an older man who is more than willing to share his knowledge and wisdom with someone who will appreciate it and benefit from it.
The soundtrack is also excellent. Mostly 60s vibes and jazz. By the end of the movie, I was hooked on the music.
To summarize this review, I would like to quote the movie director Director Dupeyron :
"The story reminds us that, even in the worst of times, if you don't close yourself up, you will always find someone, somewhere, who will smile at you. 'It's a hymn to tolerance, a cry for hope,' that's what I would like the audience to feel after seeing the film."
Monsieur Ibrahim et Les Fleurs du Coran is a coming of age movie from which everyone can learn a lot, Especially someone as inexperienced and naive as I occasionally tend to be. The movie is full of truth about life, women, smiles, friends, and I am definitely going to follow some of Monsieur Ibrahim's advice.