Disappointed with the horror films that fit into the Coming-of-Age genre, I decided to see if a book would deliver a better experience. The novel Neverland by Douglas Clegg caught my attention. A book named after the infamous world of Peter Pan had to be good – and it is, only the Neverland of Mr. Clegg turned out to be so much different than  J. M. Barrie's.
Narrated in the first person by ten-year-old Beau, Neverland's story revolves around his experiences at an old Victorian house known as The Retreat. Situated in an underdeveloped peninsula off the coast of Georgia, the Retreat is the traditional place where Beau's family spends their summer vacations. Beau's parents, twin sisters and a baby brother join his grandmother and his aunt's family at the house. Beau's cousin Sumter – only a year older than himself–  is among those present. The relaxed state of summer boredom that most kids atr so familiar with is interrupted when Sumter invites Beau to his secret hide-a-way, an old shack that the boys convert into a clubhouse.
"… I went with my cousin because we were both boys, and boys will always go where they know they shouldn't…."
The shed (and what resides within its walls) possesses the minds of Beau and Sumter with an irresistible offering – a playground where one never has to be a grown-up – a Neverland.  But, in return, it wants to be recognized and worshiped  – with offerings. Soon Beau's sisters discover the boys' hideout and join in the games they play. And those are some really scary games – involving writing of swear words with blood on the walls of the shed and sacrificing animals to the master of Neverland.
"My sisters and I giggled, knowing what all children know: Sometimes it's fun to be bad and gross."
The forbidden has always been a source of attraction to children of all ages and races. Douglas Clegg does an exquisite job in describing the changes that occur in the minds of his young characters displeased with the grown-up world that surrounds them.  They aren't bad kids, yet they enjoy their newfound freedom. As Beau describes it:
"Before this particular summer I had always stayed to the paths, I had always been under the shadows of grown-ups, and I had always been a good boy. I was tired of it. I was thrilled to have this secret life in a secret place, to have given a blood oath, to be somehow part of a world alien to the master-slave relationship of parent and child. Thrilled, yes, and ashamed, too—gleefully ashamed. "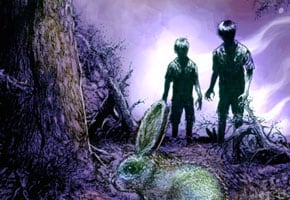 A Coming-of-Age novel told from a child's perspective, Neverland is filled with intriguing insights about the world that surrounds us. The world of adults as seen through a kid's eyes is sometimes more real than how even the adults themselves see it. The story of Neverland shares some of the motifs of James Barrie's Neverland – but its atmosphere is much more chilling, much more real — both to its characters and to the reader.
Some stories can grab one's attention from the very beginning.  The tale in Neverland is not like that.  At first one may even feel slightly irritated by the pace in which the story evolves, and how the characters seem ordinary and uninteresting.  But as one keeps turning the pages, the story slowly grabs you, and makes you care about Beau, Sumter and their siblings, creating a unique symbiosis between the world created by the author and the actual one that surrounds you.
Neverland makes the reader feel part of its story. As I read it, it made me feel as if I was Beau's age and was facing the same challenges and choices he did. I believe that anyone who reads this great book would be able to see himself in Beau, Sumter or one of the other of the book's characters. I still despise the thought of growing up, becoming gray and dull — preoccupied with worries and burdened by responsibilities.  From those thoughts, Douglas Clegg's book offered me a retreat to another world – a world where I lost my innocence again as Beau loses his.
"Sometimes I thought of stories I'd read or movies I'd seen, and I would just pretend I was in that world and not this one. But I knew it was just pretend."
Neverland by Douglas Clegg is a genuine Coming-of-Age horror novel – one with a vibrant, overwhelming story and unforgettable characters. Children, gods, ghosts, friendships, betrayal, innocence and mysteries are all tangled up in a skillfully crafted narrative. Undoubtedly Neverland is one of the best books I have read and I highly recommend it.
 Neverland by Douglas Clegg Video Trailer
 Favorite lines from the book:
"As I stood there, shivering not from cold but from fear, how was I to know that I was making a choice? When you stand at the border of the land and the sea, it is clear where one leaves off and the other begins. But where lies the boundary between the perceived world and the imagined?"
"Getting what you want isn't much. Nobody knows what they really want until they've had it awhile. And some folks want things all the time just because they want to want."