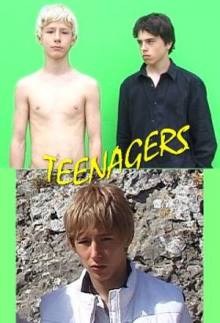 "Life is like a box of chocolates, you never know what you are gonna get."
The quote is from the 1994 film Forrest Gump (which can be also categorized as one with a Coming-of-Age narrative), but I have chosen it for the opening of my review of the independent French film Teenagers.
Directed by Paul Verhoeven, Teenagers offers a distinct experience to its viewers. Distinct does not always translate into superb, better or worse for that matter, but I have the feeling that one has to sit down with an open-mind and a lot of patience (this is an almost three hour film we are talking about) and a willingness to give the film a chance, while trying to grasp the meaning and the purpose of its story.
The plot, as the title suggests, revolves around the teenage experiences of Lucas and his acquaintances. The avant-garde manner of conveying those experiences to the audience may appeal to some cinema-goers. Personally, while appreciating the good intentions of the story — the morale lessons it tries to teach – I felt boredom, confusion, and a general lack of involvement with the characters on screen and their fate (however dramatic that turned out to be).
A possible reason for my lack of interest in the story of Teenagers could be its religious overtones, which one may find too preachy at times (just like in the 2012 film I am Gabriel). While I am not an atheist, philosophical discourses about God, love …etc are not my cup of tea.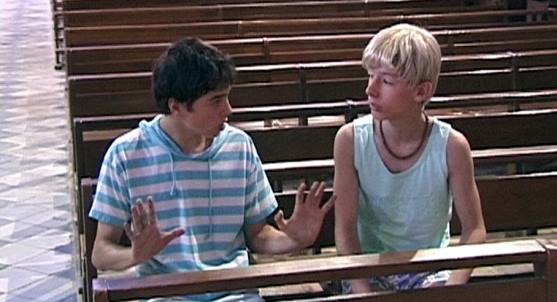 Additionally, the film features a fair amount of scenes featuring naturalism and I could not quite grasp the expediency of having them in the first place. Per se, I do not have any problems with naturalism and, unlike most American directors, directors in Europe have never been afraid to show life as it is without false pretenses and pretend concerns.  While I am aware that director Paul Verhoeven used naturalism to convey his artistic vision, its inclusion has no positive effect on the story. Furthermore, some of the scenes could potentially make some viewers feel uncomfortable as, while not erotic or sexually suggestive in any way, if one does not approach the film with an open mind, those scenes could result in something of a cultural shock.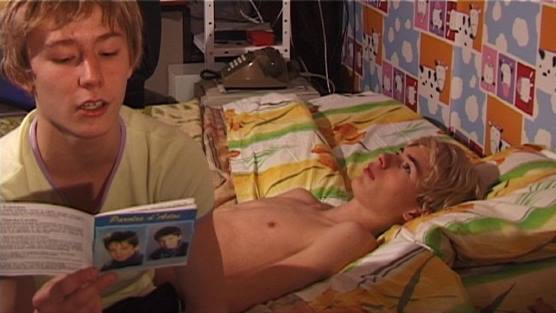 The technical aspects are the weakest part of Teenagers. One can't always expect skilled camerawork or editing, or a suitable selection of props and light arrangements as are usually found in films with big budgets.  Those often lack when a film is made with little or no funding. This film appears to be shot in an almost documentary manner, recording events as one would do in everyday life for a home video collection. The editing is in no way subtle.  For example, the transitions between scenes are quite similar to those one might find in the common user level video editing software packages. While I enjoyed the musical score (mostly classical music and beautiful choir performances), the sound while filming was not recorded properly. Most of the film's imperfections could have been fixed in the postproduction process – but I realize that could sometimes be extremely pricey.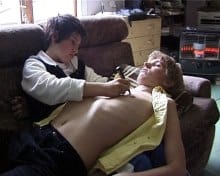 Some actors pulled off better performances than others. The best performance, in the role of Said, is Vincent Lucadello as a teenaged hit man sent across the pond to eliminate an enemy of his religion. But overall, while "inspired from real facts", the story told in Teenagers lacks the believability factor – and some responsibility for that is tied to the acting too.
As a disclosure, a screening copy of the film was sent to me by the film's director Paul Verhoeven. I am grateful that I had an opportunity to see it and have tried to be as objective as possible in the review that you have just read. I could see the film used in support groups and religious organizations, but can't really imagine it attracting any interest from the general audience at the cinemas or for home DVD renters. The film has participated in numerous festivals around the world and has received recognition at many of them – but I will leave the conclusions to you if you decide to give it a chance.
Trailer of Teenagers 
http://youtu.be/VQEqVbaV0qE
You can find more information about the film at its official website foreverprod.net/