Pelle erobreren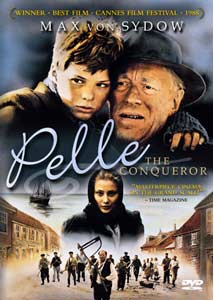 Sometimes I stumble on a movie that all of a sudden turns out to be a real masterpiece. Pelle the Conqueror really surprised me – a touching story told uniquely. Pelle is a boy from Sweden who immigrates to Denmark with his dad after his mother's death. They are both full of hope – hope for a new beginning – and there is a scene in the boat on which Pelle wants to hear over and over about the new country they will be living at:
Tell me about it again, papa. It's very different in this new country.
– You'll hardly…
– You'll hardly believe your eyes. They put raisins in the pork roast and butter on your bread…Some places, they put butter on your bread.- And kids are free all day.
– Yes, Pelle, yes. Wages are so incredibly high that kids…That kids don't have to work.
It sounds too good to be true – maybe not for you – but imagine what those words meant for a boy who is used to live in a missy, probably due to the hard life he had to live after his mother's death. As soon as the boat reaches the shore, this new world's reality came out of the dream mist. Finding employment is not as easy especially considering the age of Pele's father and the fact that he has a small boy with him. In the end, they are offered employment at a large farm but find life would present many challenges to them.
The acting is excellent – the young Pelle Hvenegaard who plays the role of Pelle is so good that one can think that he has a dozen of movies in his carrier and probably that is the reason for which 2 years after the movie is released he wins two awards for the Best Young Actor in 1988 at the European Film Awards and Best Young Actor in a Foreign Film in a Foreign Film at the young artist's awards for his role in Pelle the Conqueror.
I saw an excellent description of the acting of Pelle Hvenegaard in a review written by John Simon :
Pelle Hvenegaard won out over four thousand other boys for this part, which he well deserved. He may be almost too good-looking, but he doesn't coast on that; he acts with an open, unaffected straightforwardness, as innocent as a freshly unwrapped pack of butter.
I watched this movie with constant hope to see happiness in the eyes of Pelle, and the moments in which he felt happy were shining like real diamonds surrounded by the dust of the harsh life he had to deal with. Although Pelle is often refused friendships from the local Danish boys, he shows his good heart befriending a boy who has some physical disability – and their friendship through a little odd at times shows that people can find someone to care for, even in the toughest places.
Pelle the Conqueror is a classic movie, and although some may think that the story gets a bit depressing at times, I recommend it to anyone who treasures excellent coming of age movies.
The book can be downloaded for free from the website of Project Gutenberg.