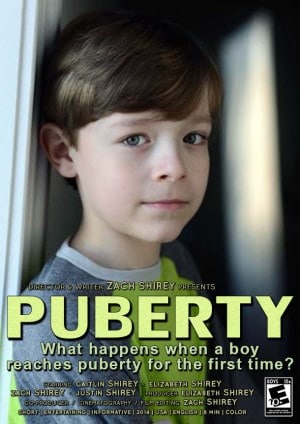 Puberty is accompanied by a great deal of physical and emotional change that could really confuse the person going through them. Naturally, some of the films with a Coming-of-Age thematic focus on puberty such as the Swedish 1980's film Children's Island (Barnens ö), Céline Sciamma`s Tomboy and the classic My Life as a Dog. (It comes as a surprise that there are not that many films one can list that focus exclusively on puberty).
Eleven-year-old Zach Shire wrote, directed and edited his own short film on the changes that inevitably occur in a boy. The title of his film is Puberty and, though it's listed on IMDb, it can be seen on YouTube.
The aspiring young director's target audience is primarily kids his age — who are more likely to listen to one of their peer on the subject.
The short film has a few flaws, but one should not judge it too harshly, keeping in mind that people who have grown up to become multi-million-dollar directors all started when they were young – just like young Zach.
TheSkyKid.com is committed to supporting young talent and we hope that the young director (and lead actor) of Puberty will continue to improve his art. In his film, he bravely addressed a theme that many kids his age would feel hesitant to and, what's more, did it so he can help them understand that their confusion is normal and they should not be ashamed of discussing the changes that occur to them with their parents ( who have been through the same and survived).