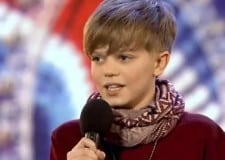 Ronan Parke – a 12-year-old boy from Norwich, England has won himself a lot of fans from around the world with his incredible cover of Nina Simone's Feeling Good at the third Britain's Got Talent audition show.  His nervousness did not hinder his performance – instead it made him more sympathetic in the eyes of the viewers and judges.  Once he started singing, the excitement took over and he delivered a performance that "WOW-ed" everyone.
Not surprisingly, the video clip from his audition is now today's most popular video on YouTube, while his name is quickly becoming a trending topic on Twitter. In addition to that, in just a few days, over one hundred articles about Ronan Parke have been posted in a great variety of online and offline publications.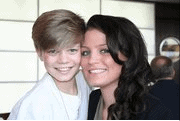 Of course, as with any young performer nowadays who ends up under the spotlights, many people have not missed a chance to compare him with the international pop sensation Justin Bieber. Sometimes such comparisons are really odd, especially when the performers sing in distinct styles – as is the case with the young Ronan. He does not have to worry, however,  because his incredible vocal skills already have made him popular on his own.
Read more : Ronan Parke Represents The Fresh New Future Of Pop